Red Pages, September 24 2018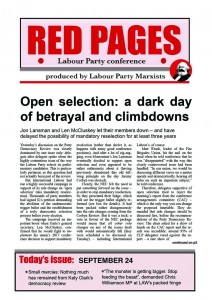 Monday September 24 2018. Download the PDF version here or read the full issue online here.
Open selection: a dark day of betrayal and climbdowns
Jon Lansman and Len McCluskey let their members down – and have 
delayed the possibility of mandatory reselection for at least three years
Small mercies
What has happened to the NEC's commitment to membership democracy?
"They can fuck off"
Alexei Sayle, Chris Williamson MP and others addressed Labour Against the Witchhunt's fringe meeting last night