LPM No 21 (PDF):
Why Israel is a racist state. Any colonial-settler project must involve systematic discrimination against the indigenous population. Moshé Machover calls for the deZionisation of Israel
Against referendums. Jack Conrad puts the Marxist case for rejecting referendums as a matter of principle
Transform the Labour Party. The recommendations from the Party Democracy review fall far short of what is need. James Marshall presents LPM's 12-point alternative.
---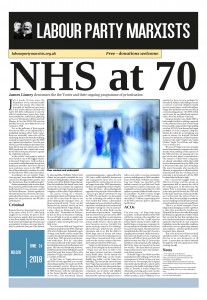 LPM No 20 (PDF): NHS at 70. James Linney denounces the Tories and their ongoing programme of privatisation; No politics, please The July 15 'Momentum national conference' in Durham will be a very special one, reports Carla Roberts: no motions, elections or decision-making of any kind; Sacked for daring to tell the truth Contribute to the fight to reinstate Stan Keable, urges David Shearer; And then they came for LRC John McDonnell has a political history, writes Carla Roberts. But, unfortunately, not much in the way of a backbone; A very British cover-up Conspiracies do happen, as the Jeremy Thorpe scandal proves. And Eddie Ford reckons the establishment might also conspire against Jeremy Corbyn in the event of a Labour victory
---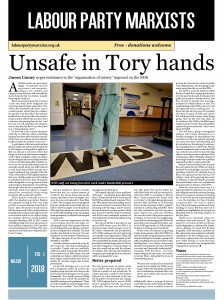 LPM No19 (PDF) : Unsafe in Tory hands James Linney urges resistance to the 'organisation of misery' imposed on the NHS; Hard, soft or no Brexit? The working class needs a strategy that tails neither big capital nor backward-looking politicians, argues Jack Conrad; End the witch-hunt Stan Keable, secretary of Labour Against the Witchhunt, reports on the lobby of Labour's NEC.
---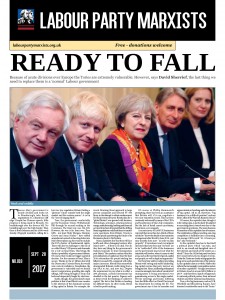 LPM No18 (PDF), September 28 2017: Ready to fall – and then what? Because of acute divisions over Europe the Tories are extremely vulnerable. However, says David Sherrief, the last thing we need is a 'normal' Labour government to replace them; Transform the Labour Party. Jeremy Corbyn says he wants to find ways to give more power to ordinary members and a conference that makes the nal decision on policy. James Marshall presents a 13-point platform that will provide the basis for our submission; On the sidelines. Organisations such as SPEW, SWP, CPB and Left Unity are not only draining members: they are profoundly disorientated politically.
---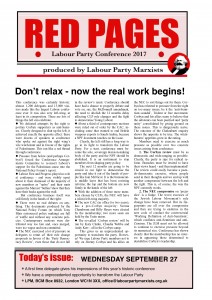 Red Pages @ Labour Party Conference, Wednesday September 27. In this issue :
Don't relax – now the real work begins!
Stuffed parrots, texts from Momentum – but very little real decision-making. A first time delegate reports
Transform the Labour Party – the basis of our submission to the Corbyn review
Support trade unionists in Iran!
Download the PDF version of this issue here: part 1 and part 2
---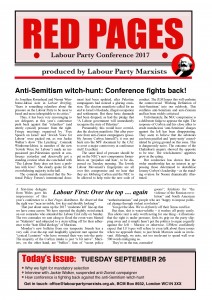 Red Pages @ Labour Party Conference, Tuesday September 26 In this issue:
Anti-Semitism witch-hunt: Conference fights back!
Interview with Jackie Walker
Labour First: Over the top … again
Mandatory selection: essential democratic demand
Click here to download the September 26 issue in PDF format
---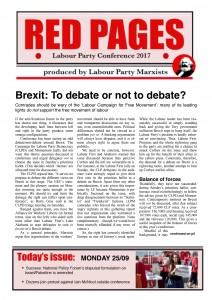 Red Pages @ Labour Party Conference, Monday September 25. In today's issue:
Brexit: To debate or not to debate?
We need a positive vision for Europe, not a pro-business one
Protest against Iain McNicol
Labour First rally: all about Marxism
Conference Arrangements Committee: Death throes of the right
Success! NPF document on Israel/Palestine is amended
Click here to download the September 25 issue of Red Pages in PDF format.
---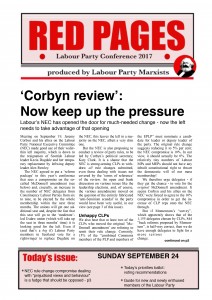 Red Pages @ Labour Party Conference, Sunday September 24. In today's  issue:
Voting recommendation: today's priorities ballot
'Corbyn review': Now keep up the pressure
Vote against the NEC 'compromise' on anti-Semitism
Click here to download the September 24 issue of Red Pages in PDF format.
---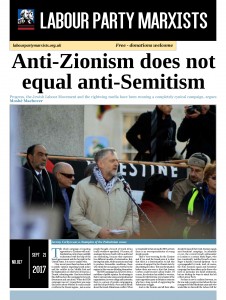 LPM No17 (PDF), September 21 2017: Anti-Semitism does not equal anti-Semitism. Progress, the Jewish Labour Movement and the rightwing media have been running a completely cynical campaign, argues Moshé Machover; A new clause four. Understandably, clause four – agreed in 1918 and then rewritten under Tony Blair in 1995 – has totemic status for partisans of both Labour's right and left; EU: There will be no reciprocation. David Sherrief says that the Tories seem determined to put the interests of party above those of capital. However, instead of presenting itself as a defender of British business, Labour needs a socialist vision when it comes to Europe
---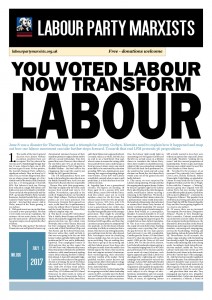 LPM No16 (PDF), July 1 2017: Thesis on the general elections 2017 and after: June 8 was a disaster for Theresa May and a triumph for Jeremy Corbyn. Marxists need to explain how it happened and map out how our labour movement can take further steps forward. Ten-point action programme. Even with a bad general election result there is good reason to believe that Corbyn would have seen o another leadership challenge. Obviously, with June 8, Corbyn's position has become considerably stronger. However, while there is every reason to defend Corbyn against the right, we must go far beyond that. Our goal is socialism and towards that end we must put in place and fashion the organisational means. Sheffield Hallam: Parallel campaign delivers win. One of the biggest upsets of the election took place in She eld Hallam, where a pro-Corbyn candidate defeated the former deputy prime minister, Nick Clegg.
---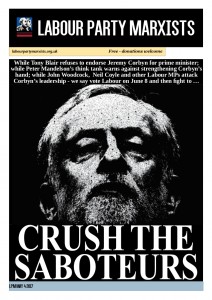 LPM No15 (PDF), May 4 2017: While Tony Blair refuses to endorse Jeremy Corbyn for prime minister; while Peter Mandelson's think tank warns against strengthening Corbyn's hand; while John Woodcock, Neil Coyle and other Labour MPs attack Corbyn's leadership – we say vote Labour on June 8 and then fight to "Crush the Saboteurs"; The left and the snap election: We've witnessed total intellectual collapse; Cohering the Labour Left: Carla Roberts reports on the first meeting of the Grassroots Momentum steering committee on April 22 in London.
---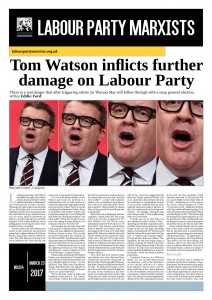 LPM No14 (PDF), March 23 2017: Tom Watson inflicts further damage on the Labour Party. There is a real danger that after triggering article 50 Theresa May will follow through with a snap general election, writes Eddie Ford. Momentum's flawed opposition. On March 11, Grassroots Momentum met at Conway Hall in central London. Simon Wells and
Carla Roberts report. What was Straight Left? Lawrence Parker investigates the political origins of Jeremy Corbyn's director and deputy director of strategy and communications
---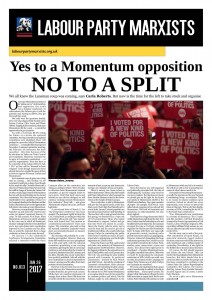 LPM No13, January 26 2017: Yes to a Momentum opposition, NO TO A SPLIT. We all knew the Lansman coup was coming, says Carla Roberts. But now is the time for the left to take stock and organise. Why referendums are anti-democratic: Mike Macnair says referendums (like the one in Momentum) empower those above, not those below. Establishment looking to dump Trump: First the salacious dossier, then the huge, but liberal-led, women's marches. The left must maintain its political independence, says Jim Grant.
---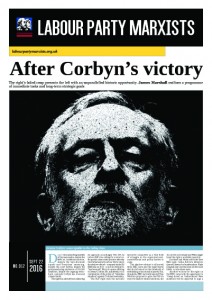 LPM No12, September 8 2016: 'After Corbyn's victory:' The right's failed coup presents the left with an unparalleled historic opportunity. James Marshall outlines a programme of immediate tasks and long-term strategic goals – including a Marxist version of Clause 4. 'Skewered by moralism': An old-fashioned tabloid scandal? Harley Filben looks at the Keith Vaz affair. Sex between consenting adults should be their business.
---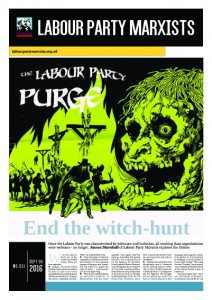 LPM No11, September 8 2016: End the witch-hunt: James Marshall explores Labour Party history, from its early tolerance and inclusion of all working class and socialist organisations to today's suspensions and expulsions of socialists. And Jim Grant is not impressed by Tom Watson's dodgy dossier of 'infiltrators'.
---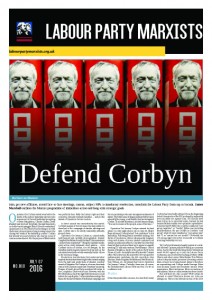 LPM No10, July 7 2016: Defend Corbyn (but have no illusions). Three clause fours – a Marxist version. Model motion: 'Support Corbyn'. Model motion: 'Mandatory reselection'. London Communist Forum – The Chakrabarti report and Labour's anti-Semitism smears.
---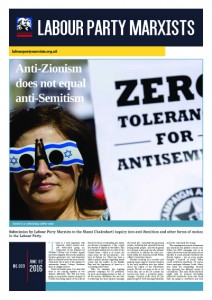 LPM No9, June 02 2016: 'Anti-Zionism does not equal anti-Semitism' – Submission by Labour Party Marxists to the Shami Chakrabarti inquiry into anti-Semitism and other forms of racism in the Labour Party; Model motion promoted by LPM: Labour Party 'anti-Semitism' smear and witch-hunt; EU referendum: blue-on-blue power struggle.
---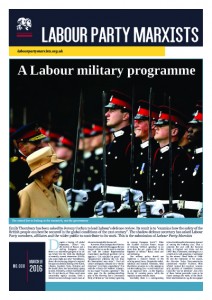 LPM No8, March 18 2016: A Labour military programme – LPM submission to Labour's defense review; LPM amendment for March 19 AGM of CLPD; Thin end of the wedge (oppose the expulsion of Gerry Downing, but expose his political errors); Against all predictions (Bernie Sanders campaign).
---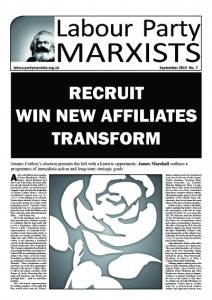 LPM No7, September 2015: Recruit, win new affiliates, transform; Alternative clause four proposed by LPM; Lies, smears and dictators.
---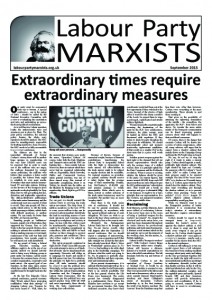 LPM No6, September 2015: Extraordinary times require extraordinary measures; Hoist by its own petard; A new clause four – Alternative proposed by LPM.
---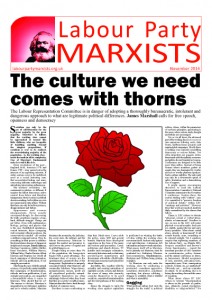 LPM No5 November 2014: The culture we need comes with thorns; LPM amendment to the Labour Representation Committee's national committee statement; Nation, class unity and political strategy; Motion – For a federal republic; Stage-managed spectacle; Election address: Stan Keable.
---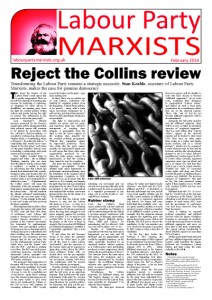 LPM No4, February 2014: Reject the Collins review; Europe and the politics of fraud; Centre-Left Grassroots Alliance; Rearm working class with collective representation.
---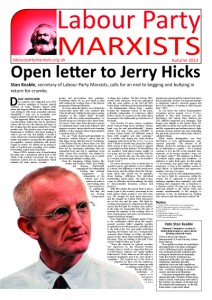 LPM No3, November 2013: Open letter to Jerry Hicks; European Union – bring arguments out into the open; Defending status quo is a loser; Motion – Defend the link, defend collective affiliation.
---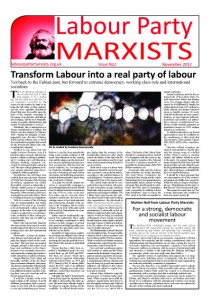 LPM No2, November 2012: Transform Labour into a real party of Labour; Motion – For a strong, democratic and socialist labour movement; Not personal but an irresponsible political split; Labour turns blue.
---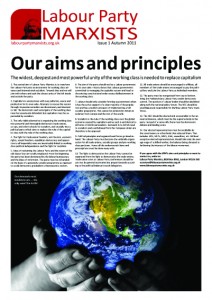 LPM No1, November 2011: Our aims and principles; Fight the bans and proscriptions; Refound Labour as a real party of labour.
---