David Shearer of Labour Party Marxists reports on the lobby in support of Marc Wadsworth
Just a day after Jeremy Corbyn met with leaders of rightwing Zionist groups to reassure them that he was taking claims of anti-Semitism within Labour "very seriously", Marc Wadsworth's disciplinary hearing took place in Church House (just round the corner from Westminster Abbey).
Comrade Wadsworth has been suspended from the Labour Party for almost two years, after criticising Ruth Smeeth MP at the launch of the Chakrabarti report in June 2016. What he actually said was that Smeeth was working "hand in hand" with a journalist from The Daily Telegraph. After a considerable time lapse Smeeth theatrically stormed out of the Chakrabarti launch, later claiming that she had been "verbally attacked" by a "Jeremy Corbyn supporter … who used traditional anti-Semitic slurs to attack me for being part of a 'media conspiracy'". Uh? Comrade Wadsworth states that he did not even know Smeeth was Jewish.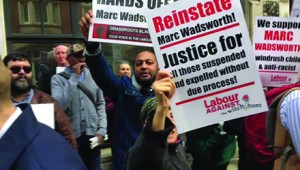 Despite the fact that his words can be clearly heard on social media – thanks to those who recorded the question-and -answer session – the charges against him were not dropped. Yet no honest person could seriously interpret what he said as anti-Semitic. It therefore says a lot about the current climate that such a remark can be weaponised in this cynical way. True, just as with Ken Livingstone, amongst others, the charge of anti-Semitism against comrade Wadsworth was eventually replaced with the catch-all of "bringing the party into disrepute" and it was on the basis of this charge that the hearing took place on April 25 (as we go to press, the two-day-hearing is still ongoing).
Naturally, the proceedings were lobbied by Labour members outraged at such blatant nonsense. They included comrades from Labour Against the Witchhunt, Labour Party Marxists, Momentum and Grassroots Black Left. The headline of the Evening Standard referred to them as a "far-left mob", although that does not appear in the online version. Its report was typical of many, concentrating on the rightwing Labour MPs who bravely accompanied Smeeth to shield her from that "far-left mob":
Dozens of Labour MPs staged a symbolic show of discontent against Labour's failure to crack down on anti-Semitism by marching alongside Jewish MP Ruth Smeeth when she went to give evidence at an expulsion hearing against activist Marc Wadsworth, who is accused of abusing her.
Jess Phillips MP is quoted as saying: "We are making sure she isn't walking into a protest on her own." As for her fellow rightwinger Wes Streeting, he claimed that the mere presence of a lobby was "intimidating".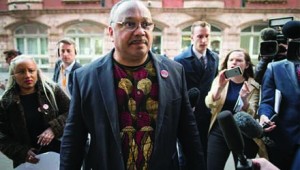 Elsewhere Streeting has stated: "That it was necessary to accompany her through a protest is an appalling state of affairs." Necessary? As The Guardian puts it, "MPs said they had decided to support Smeeth because she had initially been told by the party she would be responsible for her own security walking to the hearing." In Streeting's words, "Victims of abuse giving evidence shouldn't have to walk through a protest to do so." He went on to slam "people who claim to be Labour supporters and supporters of Jeremy Corbyn who think it's appropriate to protest against a Jewish MP." For that reason, "I hope [Wadsworth will] be kicked out of the Labour Party."
Yes, he really did say that. Smeeth is a "victim of abuse" because she was accused merely of working "hand in hand" with a rightwing journalist. And we should not be allowed to protest against such an obviously unjust procedure – for the record, it was the procedure and the whole campaign of smears that provoked the protest: comrades had gathered to express solidarity with comrade Wadsworth, not hurl "abuse" at "a Jewish MP"!
But this is all part of the ongoing drive to both undermine the Corbyn leadership and equate anti-Zionism with anti-Semitism. The latter point is illustrated by the demands made by the Jewish Leadership Council and the Board of Deputies when they met Corbyn on April 24.
As well as insisting that Labour should "expedite the long-standing cases involving Ken Livingstone and Jackie Walker" (ie, expel them on equally fabricated charges of 'anti-Semitism'), and that "there should be transparent oversight of their disciplinary process" (ie, with groups like the JLC and Board of Deputies making sure things go the 'right' way), the Zionists insist that Labour must "adopt the full International Holocaust Remembrance Alliance (IHRA) definition of anti-Semitism with all its examples and clauses".
Labour has, of course, accepted the IHRA definition itself, but certainly not those "examples and clauses", which collectively have the effect of dubbing opposition to Israel and Zionism anti-Semitic. But, thankfully, Corbyn refused to comply. According to the joint JLC-Board of Deputies statement, the meeting had been a "disappointing missed opportunity" to deal with "the problem of anti-Semitism in the Labour Party". Corbyn had "failed to agree to any of the concrete actions we asked for", which apparently represented the "minimum level of action the community expected". Nevertheless, the two groups will continue to "do our utmost to work with all those within Labour who want to help make it a safe and equal space for all of its members".
Such statements really do point to the success of the smear campaign. With the help of Corbyn's soft pedalling and apparent acceptance that Labour really does have a problem with anti-Semitism, the rightwing media has seen to it that the falsehoods are widely regarded as indisputably true.
But, thankfully, not by everybody. Writing in the New Statesman Unite general secretary Len McCluskey says: "You would have to go back a long way to find such a sustained smearing by MPs of their own leader and their own party as we are seeing now." However, he promises that the "promiscuous critics" who "wish to hold Corbyn to account can expect to be held to account themselves".
Automatic reselection should be the first step. Only then can MPs be held to account by Labour members l