Unexpected fault lines have opened up on the soft Labour left over who will be the next general secretary, reports Carla Roberts of Labour Party Marxists
With less than a week to go before nominations close on March 13, there are two candidates standing for the position of Labour's general secretary. Their politics appears so similar that the contest between them seems, at best, ludicrous and, at worst, irresponsible. Should a 'moderate' candidate choose to exploit the current division, and should both pro-Corbyn candidates continue to insist on standing, that moderate might indeed 'slip in' through the middle when it comes to the crucial vote on Labour's national executive committee on March 20. We presume that will not happen and that either Momentum owner Jon Lansman or Unite's Jennie Formby will withdraw. But then, we never presumed that there would be two pro-Corbyn candidates standing in the first place!
The issue might already be decided by the next meeting of the NEC officers group on March 14. It is tasked with putting together a short list for the full NEC and has a pro-Corbyn majority. Of the current eight members, at least five are pro-Corbyn and two are members of Unite (though Jennie Formby, the current NEC vice-chair, will probably have to excuse herself).
One thing is for sure. The election of Jeremy Corbyn as Labour leader is continuing to have a disruptive effect, not just on the establishment, but on the Labour left too. In a sense, this is very much to be welcomed. The left seemed to have been dying a slow, painful death – it needed a 'cultural revolution'. For a start, wouldn't it be nice if we had actual transparency and democracy in our movement? Why on earth are there no proper reports, for example, from all NEC members? They should be obliged to report back to those they represent as to what was discussed and how they voted. Pete Willsman and Ann Black have been the only ones to routinely write such reports (for general circulation) – with their own omissions and partisan views, of course.
But in recent days NEC members Christine Shawcroft and Darren Williams have come out with short Facebook posts and brief hints, which indicate not just deep divisions between the representatives of the left-led unions and the nine elected by Constituency Labour Party members, but also the tensions between the nine, though they were elected on same the 'centre-left slate'. We will come to that below.
Here is what we know.
For days, Jennie Formby seemed a virtual shoo-in. She has the support not just of her union, Unite. But pretty much every single group on the Labour left has come out for her, including quite a few Momentum branches. Shadow chancellor John McDonnell has tweeted his support. Jeremy Corbyn is keeping schtum in public: he wants to appear above the fray and, of course, he values the support of both Momentum and Unite's Len McCluskey.
So why then are there two left candidates? There are various theories and possible scenarios, some of which are, of course, interlinked. Clearly, we are in the middle of a very messy process.
Theory 1: Lansman has gone mad
This is perhaps the most common theory one comes across when discussing the issue on the left. According to this – and I must admit to having some sympathy for it – Jon Lansman's ego has simply got the better of him. So successful has he been running Momentum as his own private fiefdom that he now thinks he has earned the right to aim for bigger things. After all, wasn't it his tens of thousands of foot soldiers who nearly managed to get Jeremy Corbyn into No10?
Being directly responsible for over 200 staff; the party's campaign and media strategies; all its organisational, constitutional and policy committees; the organisation of party conference; the preparation of party literature, etc – it sounds right up Jon Lansman's street, doesn't it? And who cares if that puts Corbyn in a very awkward position when it comes to Unite leader Len McCluskey? The time has come for Lansmanism to blossom!
We can certainly believe that Lansman's ego is bigger than your average politician's. But just like theories that try to pin the outbreak of World War II on Adolf Hitler's psychological problems, that is clearly too easy an explanation.
Theory 2: Lansman is moving to the centre
We do not believe for a moment that he is standing in some semi-sacrificial way to "open up the contest and ensure we have a wide range of candidates". We presume that Lansman thinks that he has an actual chance of winning a majority of votes on the NEC.
Of the 38 executive members, 21 could be described as pro-Corbyn, and 17 as rightwing. According to The Skwawkbox:
all the left NEC members have committed to support Jennie Formby, with the exception of a couple who have said they'll only vote for a leftwing woman – and one who is behind Jon Lansman. Those committed to Formby include both party and union representatives – including party representatives elected as part of slates backed by Momentum, the organisation founded by Jon Lansman.
We know, of course, that outputs by 'alternative media' like The Skwawkbox should be taken with a pinch of salt. They are increasingly being used by political factions and sometimes even by journalists to leak unverified rumours to the wider public, so that it can then be picked up by the mainstream press. But we reckon that the website has done its counting correctly this time: 17 votes for Formby. The single leftwing NEC member who openly supports Lansman is Christine Shawcroft. But Lansman seems to think that he can win round those two left NEC members who have not yet openly backed Formby – a possibility, clearly.
But he must also count on the entire right wing on the NEC to back him in order to achieve a majority. He has clearly been working very hard to position himself in the political 'centre' of the Labour Party. I am sure Lansman is not entirely unhappy with the media narrative, according to which Jennie Formby is the representative of the hard left and the union bureaucracy, openly supporting – would you believe it? – the democratic rights of the Palestinian people. Clearly, she is too radical and 'anti-Semitic' to head the Labour machine!
In reality there is, of course, very little actual political difference between Jennie Formby and Jon Lansman. We are seeing a split on the soft left, rather than a split between the hard and soft left (which is probably still to come). Both candidates are uncritical supporters of Jeremy Corbyn and his policies, presumably prepared to back various political climbdowns should he become prime minister.
Which makes the only visible difference all the more crucial: the question of Israel and Palestine. With the Israeli army inching closer to getting involved in Syria (to distract perhaps from the legal problems of a certain Binyamin Netanyahu1)www.independent.co.uk/news/world/ middle-east/israel-prime-minister-benjamin- netanyahu-corruption-allegations-lawyers-explain- trouble-a7524416.html) the Labour Party's position is becoming increasingly important. Can it really become an anti-war party – perhaps even in government? Will the pacifist Corbyn stick to his guns (excuse the pun) as prime minister and forthrightly condemn Israel aggression?
That would put the pro-imperialist right in the Parliamentary Labour Party under immense pressure from the Zionist lobby. This is, after all, why the whole 'anti-Semitism' scandal was created in the first place. Discredit Corbyn's anti-war and pro-Palestine stance. Force him to 'man up' and come out in support of US interests. And that includes unconditional support for Israel to do whatever it has to do to 'defend itself'. (We note Prince William is the first member of his family to make an official visit to Israel, as well as Lebanon and "the occupied Palestinian territories".)
In this context, Jon Lansman's participation in the 'anti-Zionism equals anti-Semitism' witch-hunt in the Labour Party is very, very important. He has said of Ken Livingstone, "It's time he left politics altogether"; thinks that "there should be no place for George Galloway in the Labour Party" (and called on his employers to sack him); and when Jackie Walker was suspended from Labour on trumped-up charges of anti-Semitism, he quickly removed her as vice-chair of Momentum. He wants to be seen as a safe pair of hands, when it comes to Israel.
The question is, can Lansman get away with positioning himself in the political centre?
A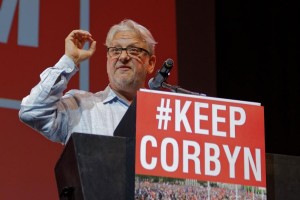 fter all, he is Mr Momentum, which has since its inception been portrayed as a dangerous hotbed for an assortment of hyperactive hippies and Trotskyist troublemakers. He has been on the 'far left' of the Labour Party for decades, we are told. However, over the last 14 months, Lansman certainly has been very busy moulding Momentum into a thoroughly respectable election machine.
His coup of January 2017, which abolished all democratic structures in the organisation and imposed his constitution on the membership, has certainly gone a long way to assure the establishment of his 'credentials'. He also subordinated Momentum to the compliance unit by barring membership  to all those who have been expelled from the Labour Party for "supporting another organisation" (rule 2.1.4.B).
No doubt Momentum's deployment of an army of foot soldiers during the general election campaign made a real difference to Labour's votes. Momentum nationally has been very careful to support all Labour Party candidates, not just pro-Corbyn ones (even if locally its members often choose to campaign mainly for leftwing candidates).
Politically, the organisation is even more harmless. For example, despite the fact that Jon Lansman has campaigned for mandatory reselection of parliamentary candidates for decades, he has now dropped the demand and campaigns merely for a reform of the trigger ballot. At present an MP needs to win a simple majority of nominations from local party branches and affiliated trade unions and socialist societies in order to become the candidate once more. Lansman wants to raise this threshold to 66%, but this would still disproportionally favour the sitting MP: rather than allowing for a full and democratic automatic reselection process before every election, a sitting MP would still have to be challenged.
So successful is Momentum's transformation that now even Theresa May openly wants to emulate it. This week she has written to "young activists" to help build Momentum-style grassroots campaigners. According to The Sun, the letter states:
We are recruiting a new army of foot soldiers to take the fight to Labour. It is clear from the results of the general election that we are more likely to win seats in which our organisation is strong. And it is an unfortunate fact that Labour's organisation was better in many seats than ours.
It is absolutely possible that the right in the Labour Party might swing behind Lansman. The Guardian writes:
Lansman's entry into the race is thought to have the tacit backing of some other unions, which are irritated by what they regard as Unite's increasing dominance of Labour decision-making. Key to the decision will be two other major unions, the GMB and Unison, who have so far declined to give Formby their backing.
It is not impossible that other rightwingers on the NEC – for example, those from the PLP or those representing councillors – might support him, too. Especially if that was the only way to stop Formby.
Politically, of course, Lansman's method of chasing the political centre is very much old school and in line with the method advocated by the Campaign for Labour Party Democracy and its founder-leader, Vladimir Derer, since 1973 (he died in 2014). The organisation was founded on the premise that any reform in the Labour Party has to be achieved not by pressure from the membership (which, for example, Militant pursued), but by winning over – or at least neutralising – the 'centre', in the party and the unions. The fascinating BBC docudrama The campaign shows how the CLPD won a conference majority to vote for a version of mandatory reselection in the early 1980s: through a number of backroom deals with union leaders.
It still pursues this method though the so-called Centre Left Grassroots Alliance, which 'recommends' various candidates for Labour Party elections. It is based on rather mysterious, private and entirely undemocratic get-togethers of various Labour left organisations, to which only a few lucky ones are invited (this year, for example, Jewish Voice for Labour was among the invitees), while others never make the gathering. The Labour Representation Committee regularly complains when it is left out in the cold.
According to Wikipedia, the CLGA was founded in 1995 by the CLPD and Labour Reform, "a centrist democratic group", which had supported Ann Black as member of the NEC. When "private talks with trade union representatives" failed, Liz Davies of Labour Left Briefing and Mark Seddon, editor of Tribune, were also brought in. But, convinced of the left's unelectability, the CLGA continued to support centrist candidates and rejected any moves to present a leftwing platform or support openly left candidates.
This explains how Ann Black could remain on the 'left ticket' for so long, despite clearly being very much on the centre of the party. She supported the move to stop tens of thousands of pro-Corbyn members from voting in the second leadership election and, as chair of the NEC disciplinary panel, gave her backing to much of the witch-hunt against the left – for instance, by voting for the suspension of Brighton and Hove CLP. Many have questioned, quite rightly, why the CLGA continues to back her.
Theory 3: It is all about Ann Black
As we have reported, Jon Lansman and CLPD secretary Pete Willsman, who have worked together in the CLPD for decades, have fallen out over Black. Just how badly became very obvious at the CLPD's March 3 annual general meeting. Clearly having thoroughly internalised the centre-left strategy, Pete Willsman continues to insist that Black should be included on the CLGA slate. When his own CLPD executive committee voted (by a majority of one) against her inclusion a few months back, he decided to ignore the decision and campaign for her.
On the morning of the AGM, a rumour was doing the rounds that Lansman would turn up in order to graciously announce his withdrawal from the general secretary race. If true, he clearly changed his mind. He did not even show up. But his supporters were a visible presence. After a long list of worthy but boring speakers (which pushed all normal motions submitted off the agenda), Lansman's NEC ally, Christine Shawcroft, presented an emergency motion, which sought to remove Pete Willsman as CLPD secretary and force immediate new elections to the position (which she was apparently intending to contest).
The motion criticised as "unacceptable" the delay in putting together a slate for the NEC elections in the summer:
A draft slate was not opposed by CLPD, yet during February attempts were made to overturn it with biased and incomplete emails around the executive, and threats to take it to the AGM. All in the name of keeping someone on the slate [ie, Ann Black] who has consistently voted against us in the last two years, often in ways very damaging to the leader. Now the two-month delay means that those on the final slate are already on the back foot, struggling to make up time. This has happened because of a lack of basic democratic accountability in CLPD's organisation.
The motion was ruled out of order (on the basis that it was "not an emergency"), but it took a vote that needed two recounts before that decision was accepted. And, of course, it served another purpose: to justify the fact that Jon Lansman single-handedly leaked a list of the nine NEC candidates supported by Momentum to the national press. Ann Black was not on it, of course.
In our view, Ann Black should certainly not be on any leftwing list. But then she should have never been on it in the first place! She had been supported by Lansman and Willsman for many years – and, no, she did not turn into a centrist overnight. She had always been one.
By kicking her off the left slate, Lansman seems to have been acting in line with the party leadership. After all, the NEC officers group (which has a clear a pro-Corbyn majority) risked media ridicule when they shut down a meeting to elect a new chair of the national policy forum, because Ann Black was sure to win it.
Pete Willsman, however, did not seem to get the message. We wonder how long the deeply divided CLPD can keep going.
Theory 4: Lansman 'wants to break the union link'
This is where the contradictions start to mount up. It is one thing to stand against a leftwing union representative. If you present yourself as the serious, credible alternative candidate of the political centre, you might have a chance of getting the rightwing unions on the NEC behind you.
But Lansman has gone one further with his proposal to have the general secretary elected by the party membership as a whole. We very much oppose it. It sounds democratic, but really it is not. It would actually create two rival centres of power. We have seen under McNicol's tenure how destructive the general secretary can be. Having direct elections to the post would not prevent this situation occurring again – it would though guarantee endemic conflict between Labour Party HQ, the NEC and the leaders' office. No, the general secretary should remain directly accountable to the NEC. Once the numbers on the NEC had changed in favour of the pro-Corbyn left, McNicol's time was up. And that is how it should be.
Lansman's proposal is also very risky from his point of view, as it surely is bound to alienate all unions affiliated to the Labour Party. They see it as their historic right to fill a proportion of leadership positions, so why would they vote for him to become the next general secretary if he is proposing to change that? Especially as his NEC ally and fellow Momentum director, Christine Shawcroft, used an angry Facebook post to declare: "It is time to support disaffiliation of the unions from the Labour Party."
This came as a complete surprise to us. To our knowledge, she had never put forward such a line before. And it also came as a shock to Jeremy Corbyn, whose spokesperson described that statement as "a heat-of-the-moment remark":
There is almost no-one in the entire Labour Party who supports any kind of breaking of the link with the trade unions. Even to say it's a minority view would be exaggerating it: it's a completely marginal view that has no support whatever. I don't think it even represents her view.
Shawcroft has indeed deleted the comment. Some claim that she was not totally out of tune with Jon Lansman here, even if Momentum was quick to distance itself from her statement. In his candidacy statement Lansman talks about wanting to "listen to our trade union affiliates" and "work hard to strengthen Labour's trade union link". But he has also gone to the media to express "dissatisfaction that the role [of general secretary] should be chosen behind closed doors by Labour's NEC, which in practice would mean a deal struck between major trade unions for their preferred candidate". However, to interpret this as a desire on Lansman's part to see the unions disaffiliate is a bad case of clutching at straws.
True, the union link seems to have been a point of discussion among his allies and there is certainly room for democratic reform when it comes to the unions' role in the Labour Party. For a start, instead of union general secretaries casting their union's bloc vote at the Labour conference, we call for the vote to be divided on a proportional basis according to the political balance in the delegation.
But calling for the link to be broken is entirely wrong-headed. If Labour is to become the party of the whole class, then clearly it must become the umbrella organisation for all trade unions, socialist groups and pro-working class partisans. All unions should affiliate and all union members should pay the political levy.
Theory 5: Jon Lansman is the good guy
This is almost as hard to swallow as scenario 4. But bear with us.
Shawcroft's outburst on Facebook actually came about after the March 17 meeting of the NEC's disciplinary panel, of which she is now chair. The disciplinary panel is made up of the entire NEC – or, more precisely, of those NEC members who can be bothered to show up. It is the committee that decides if disciplinary charges have any merit – and should therefore be sent to the National Constitutional Committee for further investigation.
The NCC consists of 11 members, chosen by party conference for a two-year term. Four are elected by CLP delegates, six by the unions and one by affiliated socialist societies. Last year, the CLGA candidates, Emina Ibrahim and Anna Dyer, won overwhelmingly in the CLP section. The other two CLP positions are up for election at this year's conference, but for now the NCC clearly remains in the hands of the right. And it is questionable how 'left' the CLGA candidates are. Emina Ibrahim, for example, was supposed to be the alibi leftie on the three-person NCC panel at Tony Greenstein's expulsion hearing – and despite the obvious democratic shortcomings, lack of natural justice and due process in the accusations against him, she voted in favour of him being expelled. For being rude.
As far as we can tell, Christine Shawcroft has used her new position as chair of the disciplinary panel to argue for the dismissal of all cases brought before it – and against their referral to the NCC. Exactly right. Once your case is in front of the NCC with its current composition – if you are a leftwinger – you can kiss your membership card goodbye. Next to their access to the national press, this is probably the most potent weapon the right in the party machine still has. We support the demand that all 18 cases currently in front of the NCC should be referred back to the NEC's disciplinary panel.
But at the March 17 meeting it seems that despite her best efforts to dismiss all the cases in front of the committee (there were a few dozen, we understand) the majority voted for three cases to be referred to the NCC, despite the evidence being "far from compelling", as NEC member Darren Williams complains (see below).
Interestingly, Shawcroft wrote on Facebook that a certain Jon Lansman supported her; whereas Jennie Formby did the opposite: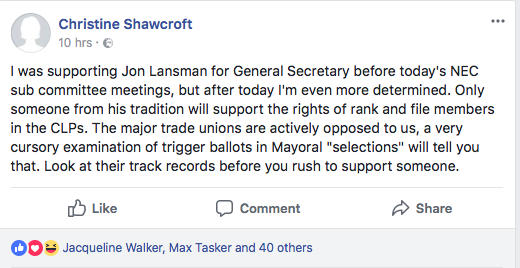 I must admit to a certain scepticism when I first read this. Shawcroft did, after all, support Jon Lansman in the middle of his undemocratic coup by becoming Momentum's director and did not speak up when he continued to ride roughshod over the members by imposing his own constitution. She also previously voted to refer Jackie Walker and Marc Wadsworth to the NCC. She irresponsibly split from Labour Briefing journal to set up her own Original Labour Briefing – without explaining the politics behind it.
But then she was backed up by fellow NEC member Darren Williams on Facebook. We cannot stress enough how unusual this is for both of them: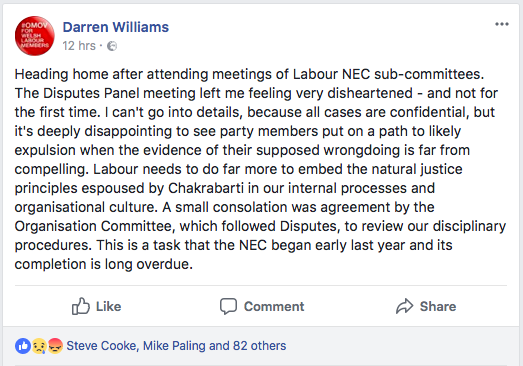 In the discussion thread underneath, Christine Shawcroft then wrote:

After being questioned if this was a systematic voting pattern of the representatives of the major unions and if Jennie Formby has indeed been part of that pattern, comrade Williams clarified: "I think there has been undue caution sometimes about speaking up for members facing questionable charges, probably due to a fear of being seen to be contributing to Labour's supposed 'anti-Semitism problem'."
Ever since she threw her hat in the ring, Jennie Formby has been at the forefront of the right wing's radar. She has been accused of "acting with anti-Semitic intent" by Labour Against Anti-Semitism – an attack which Unite has quite rightly termed a "malicious smear". A smear which has, of course, been picked up and repeated by the entire press. She clearly feels the need to bend the stick in the other direction to have a chance of being elected. On March 3, she tweeted: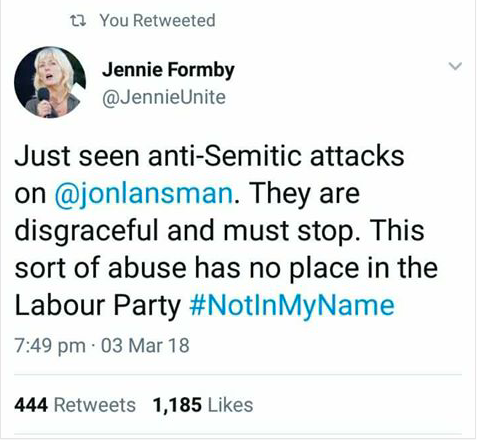 But if it is true that she systematically votes to refer disciplinary cases to the NCC, that is a different matter altogether. We are told that Formby, in this instance, did not vote at all, but basically left the room repeatedly, so that she would not have to cast a vote. Apparently, all trade union representatives at that meeting (except the Transport Salaried Staff Association) voted to refer the three cases to the NCC. And, apparently, Jon Lansman voted against that.
Many members expected that, with the NEC finally having a pro-Corbyn majority, the witch-hunt would come to a swift end. But it was never going to be that easy. The civil war continues. And the fault lines are continuing to shift.
Right now Labour Party members deserve to know if Unite representatives (including Jennie Formby) do systematically vote with the right when it comes to the witch-hunt against pro-Corbyn members. If that is indeed true, it would certainly shine an entirely new light on Jennie Formby and how deserving she is of the left's support.
Of course, in the absence of openness on such important issues, we should be careful about who is spreading news and to what purpose. After all, Len McCluskey has been very outspoken in his opposition to the 'anti-Zionism equals anti-Semitism' witch-hunt, so this reported behaviour by one of Unite reps is, to put it mildly, surprising.