In light of the new incoming regime at party HQ, Carla Roberts of Labour Party Marxists reports on left-wing objections to Jon Lansman's slate
Jennie Formby is now the new general secretary of the Labour Party. With the help of most of the mainstream media, the right tried to smear her on every level imaginable: personally, as the "mother of Len McCluskey's lovechild", and professionally, by painting her as a mindless union bureaucrat who, it was claimed, was 'demoted' from political director of the Unite union to regional secretary.1)www.unitetheunion.org/news/unite-statement-on-the-smear-attack-on-jennie-formby-by-laas
Most pathetic was, of course, the attempt to present her as some kind of anti-Semite. In the last two and a half years, this smear has been employed over and over again. Editors have become so 'oversensitised' to the subject that they will jump with joy when they get the next tip-off, no matter how stupid. A case in point is the 250-page dodgy dossier of vile rightwinger David Collier (aka GnasherJew), in which he "exposed" the fact that Jeremy Corbyn was once a member of a Facebook group in which some people wrote shite. Big deal. Still, almost every single newspaper found this newsworthy and quoted Collier uncritically.
Similarly they lapped up the charge by the mysterious campaign, Labour Against Anti-Semitism (LAAS), which accuses Formby of "making anti-Semitic comments regarding the suitability of Baroness Royall to conduct an NEC inquiry into alleged anti-Semitism among Labour students at Oxford University".
More recently we saw the attempt to charge her with having been personally responsible for hiring Vicky Kirby, who did indeed make some rather problematic comments on Twitter a few years back. Kirby was suspended from the Labour Party, but has been reinstated since. Unless we support Berufsverbote for people who have made stupid comments online, this is clearly not much to go on. And in fact, as Unite has explained, Kirby was appointed by a panel.
In the last couple of days, LAAS has also charged Formby with not having
adequately explained her relationship to the 'Labour Against the Witchhunt' group, made up of divisive suspended or expelled members such as Jackie Walker, who have supported her application for the role of general secretary. We seek assurances from Ms Formby that she has no relationship with this body or any of its members, as we believe this may prejudice her ability to uphold and implement the rules relating to racial discrimination that are embedded in the Labour Party rulebook.
Well, we can put the mind of the anonymous witch-finders to rest: to our knowledge, Jennie Formby has no relationship at all with anybody from Labour Against the Witchhunt. In fact, had LAAS checked their facts, they would have been able to ascertain that LAW's support for Formby was openly "critical":
We are concerned about her record on Labour's NEC, where it appears she has, as recently as last week, failed to oppose the witch-hunting of Jeremy Corbyn supporters by rightwingers who have weaponised false claims of anti-Semitism despite Formby herself being the target of such smears. Nobody in the Labour Party can truly be a socialist if they support the purge and that includes the future general secretary.
That does not really read as if Formby was a fully paid-up member of LAW now, does it?
Some of the rightwing unions on the NEC even went as far as giving "tacit backing" to Momentum owner Jon Lansman over Jennie Formby, clearly judging correctly that he is to her right. After Lansman ally Christine Shawcroft's ill-judged call to break the union link, that support evaporated quickly and Lansman had to withdraw his candidacy to avoid being crushingly outvoted on the NEC.
Last, but not least, we saw the coordinated resignation (or "exodus", as The Independent puts its slightly hysterically) of six Blairite Labour staffers, two days before Formby's expected appointment. Taking their cue from the right in the Parliamentary Labour Party, they clearly tried to do as much damage as possible by going to the press about their joint departure.
Good riddance to them. They include two female employees who directly worked for Iain McNicol; 'head of policy' Simon Jackson and, most interestingly, John Stolliday, 'director of legal and governance', whose name has popped up in the documents obtained by many of those suspended and expelled from the Labour Party.
Clearly, these Blairite apparatchiks jumped before they could be pushed (or their short-term contracts ran out). Only The Guardian seems naive enough to write that Iain McNicol "stood down unexpectedly".2)The Guardian March 21 Clearly, McNicol and his willing minions had been living on borrowed time ever since Jeremy Corbyn was elected Labour leader. Once the balance on the NEC shifted in favour of the left, they knew their time was up.
Hotting up
This coordinated attempt to damage Corbyn also serves as a reminder that the civil war in the Labour Party is far from over. The faux outrage over Corbyn's demand for some form of proof before throwing himself head on into a new kind of cold war with Russia is a case in point. The entire bourgeois media has been joined by the usual assortment of rightwing Labour backbenchers, but also a few frontbenchers like Keir Starmer, who is clearly biding his time before he further twists the knife – he has got quite a good job now under Corbyn, after all.
The leftwing mass membership has, after three long years, finally produced a leftwing NEC, which in turn was able to elect a leftwing general secretary (who will hopefully soon rid HQ of the witch-hunters too). But the right has not yet given up. The Parliamentary Labour Party, the regions and the mass of councillors are still dominated by the right.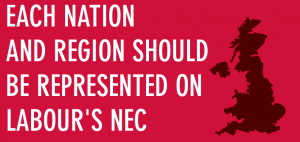 Labour First and Progress have just announced the launch of a new campaign by "Labour's centre-left" (ie, Labour's right) to increase the number of NEC delegates. Apparently, the "nine centre-left grassroots candidates standing for the NEC" (ie, the nine rightwingers standing against the nine being put forward by Momentum and/or the Centre Left Grassroots Alliance and which include Luke Akehurst3)https://www.necregions.co.uk/about) want "each region, Scotland and Wales to get a members' place on the national executive committee and the number of places for Labour councillors (currently two) would double."
Interesting, isn't it, that rightwingers now think they have to use the language of the left to get anywhere in the party. The 'model motion' is full of Momentum-style blurb about "giving the members a voice". In reality though, they would achieve the opposite – a bit like the proposals advanced by Momentum.4)http://labourpartymarxists.org.uk/momentums-loose-cannon/
An additional eleven NEC members would be elected from 'the regions', plus two more councillors. Those delegates should be elected by "one member, one vote". But, because "a national ballot is expensive, prohibitive and extremely difficult without a grouping backing you", the campaign wants to see those delegates elected by regional conferences. And – you guessed it – those are, of course, still run and dominated by the right. A rather obvious attempt to shift the political balance on the NEC back in favour of the right. This is clearly not about giving "the members a voice" (who in their majority are now to the left of Corbyn). Of course, the proposal has no chance of being implemented by the NEC, but will undoubtedly pop up in branch and CLP meetings across the country.
It is also of concern that the party's national constitutional committee (NCC) is still firmly in the hands of the Blairites. This deals with any disciplinary cases that the NEC feels merit further investigation – and, in many cases, such a referral leads to expulsion. The few token leftwingers on this committee have proved to be far from useful – or leftwing, for that matter. Momentum's national vice-chair, Emina Ibrahim, for example, was supposed to be the alibi leftie on the three-person NCC panel at Tony Greenstein's expulsion hearing – and, despite the obvious democratic shortcomings, lack of natural justice and due process in the accusations against him, she voted in favour of him being expelled. For being rude.
We understand that there are currently about 20 cases before the NCC, with many having lingered there for many months – some for years. The vast majority of them were clearly referred there by an NEC with a very different political balance. We support LAW's demand to refer all of them back to the now left-majority NEC.
Of course, we are aware that the cases of Jackie Walker, Marc Wadsworth and many others might not automatically be dropped by the NEC (especially as the last meeting decided to refer three further cases). But clearly there has been such a lack of natural justice and due process in all these cases that a new examination of the 'evidence' is long overdue. We also hope that, with the election for general secretary out of the way, Unite delegates on the NEC will feel emboldened to speak up against the ongoing witch-hunt of left activists. Maybe Len McCluskey will now even affiliate Unite to Jewish Voice for Labour – a promise he made with much fanfare at last year's Labour conference.
Start again?
New spikes in the Labour civil war are usually accompanied by chatter about the right wanting to break away. We know that 'moderate' Labour MPs have been meeting with Liberal Democrats and Tories to discuss how to stop Brexit. During these cross-party meetings, the idea of a new, pro-European party was mooted some time ago. The 'Russian agent' crisis has apparently accelerated this process, so that now we even know the name of the dreamed-up new organisation: Start Again.
According to The Times' Rachel Sylvester, "for Labour MPs who feel increasingly as if their party has been stolen from them, last week was a tipping point … The equivocation over Russia followed revelations of [Corbyn's] membership in an anti-Semitic Facebook group" is the last straw for many, apparently. "Labour has mutated into something completely different, and it is increasingly clear that moderates need to recreate the party they once joined. Chatter has focused on the idea of a new pro-European alliance, but this is so much more than Brexit." Yes, it is. It's nonsense.
But the right will not do us the favour of breaking away. Unfortunately. No other than ex-Wunderkind Tony Blair has been pulling his hair out over how to do it, and has admitted that it cannot work, thanks mainly to the undemocratic British voting system. With elections based on proportional representation, it would be much easier to build a new party and be represented in parliament. But the failure of the Gang of Four's Social Democratic Party continues to serve as a stark reminder to Blair and co.
It is much more likely that the right will continue to stay in the party and fight: with leaks to the media, underhand briefings, backstabbing motions, witch-hunts against leftwingers and, one day, if Jeremy Corbyn – or somebody like him – really does become prime minster, perhaps even in cooperation with the full force of the British state.
Alternative
But the left is in no less disarray, unfortunately. Apart from relatively successful single-issue campaigns like Labour Against the Witchhunt, the left's conduct in the Labour Party has been characterised by political confusion, a serious lack of democracy and a political method that has more in common with Stalinism than socialism.
We have previously written at length about Momentum's farcical and worryingly quick descent into the Jon Lansman show. The man runs the organisation with an iron fist that would make certain historical figures gasp with admiration. No wonder the rest of the organised left is increasingly fed up with his methods. Unfortunately, this does not always lead to outcomes or methods that are necessarily preferable.
Take the quarrel over the selection of leftwing candidates for the NEC (full elections take place this summer). Previously, some sections of the Labour left got together under the umbrella of the Centre Left Grassroots Alliance to settle on a list of candidates. In the past this has included Ann Black, who is clearly more in the 'centre' than on the 'left'. For some reason, NEC veteran Pete Willsman seems to like her, despite the despicable role she has played in disenfranchising thousands of Corbyn supporters in the party. He ignored a decision by the executive of the Campaign for Labour Party Democracy (of which he is secretary) and insists that she continue to be featured on the CLGA slate.
But his long-standing CLPD comrade, Jon Lansman, disagreed. And quite right too. But, rather than having a transparent debate on the organised Labour left about who the best representatives of the membership on the NEC might be and how to make them accountable (we have a few ideas on those questions), Lansman went in the other direction and simply declared which nine candidates Momentum would support. The list is identical to the draft CLGA list – but with a replacement for Ann Black. 5)http://labourpartymarxists.org.uk/witch-hunts-when-chickens-come-home
Clearly, Lansman's method stinks to high heaven. We welcome the fact that there is opposition. But we fear that the statement issued by the Labour Representation Committee, Red Labour and Grassroots Black Left (see below) will do little to lead to political clarity or greater democracy.
For a start, the meeting was organised on a very selective basis, as the CLGA's gatherings have been in the past. As for stating that the "CLGA is supposed to operate on the basis of consensus", that seems to us rather unlikely and, most importantly, not desirable. Such "consensus" (or, more precisely, compromise) has led to centrists like Ann Black having been run on a leftwing ticket. Clearly, the methods of the CLGA need to be criticised too.
Red Labour is, of course, merely "a network" or a "forum" that sometimes produces humorous pro-Corbyn memes on Facebook. It is not an organisation you can join. It might have 120,000 'likes' on Facebook (rather than 'participants'), but it has no political coherence, no programme, no strategy. Yes, it has played a useful role in shoring up support for Corbyn in the run-up to various elections. But should the people running such a loose network really be involved in making decisions about NEC elections?
Resolutions calling for increasing the number of "oppressed and disadvantaged comrades" on the Labour Party NEC miss the point. What about their politics? Why does the statement not contain any mention of the basic political principles that we would want our NEC representatives to uphold? At least a commitment that they stand for a democratic republic, abolishing the House of Lords, replacing the standing army with a popular militia, getting rid of capitalism and achieving the rule of the working class and socialism.
We understand that a representative from Jewish Voice for Labour was also at the meeting and agreed to the statement, but that the rest of the JVL executive has since changed its mind. The JVL now supports Lansman's slate instead. There is also opposition in the LRC. Yes, its executive voted in favour of endorsing the statement, but a sizable minority of  LRC executive members opposed the move.
We would agree with those comrades. It is one thing to criticise Jon Lansman for his undemocratic methods. He deserves it and we have done plenty of it. But to seriously consider standing candidates against a slate endorsed by Momentum, is – how to put this nicely? – not tactically advisable at the moment. We understand the LRC executive will make a final decision on May 6 – we would urge them to vote against. It runs the risk of letting in rightwingers like Eddie Izzard, which, considering that the NEC does not have a rock-solid left majority, could well have dire consequences for the left's fight to transform the party.
---
LRC, Red Labour and Grassroots Black Left statement
The CLGA (Centre Left Grassroots Alliance) is supposed to operate on basis of consensus, but the slate has been drawn up without consultation with all its constituent bodies. The slate has to all intents and purposes been presented as a fait accompli.
The GBL has been unilaterally refused membership of the CLGA on the basis of opposition from one person representing Momentum.
Red Labour was invited to join the CLGA, but has been informed that this will not be permitted until its 2018 slate is finalised.
We resolve to start an online consultation process, hosted by Red Labour, to determine whether grassroots candidates want to stand and whether it is the expressed wish of rank-and-file members that such candidates be supported.
In the interest of tackling the underrepresentation of oppressed and disadvantaged comrades,
we would positively welcome applications from black, African, Caribbean, Asian and other people of colour and women.
LRC, Red Labour and GBL will update about how comrades can apply to be an NEC member.
Sent to Jeremy Corbyn, whose progressive politics we support, and Jon Lansman.