The Labour Left Alliance held its first national networking meeting in Brighton. Carla Roberts of Labour Party Marxists reports
Almost 100 people crammed into the first networking meeting of the Labour Left Alliance on September 25, which took place after the close of Labour Party conference in Brighton. Despite the fact that conference finished early, with Jeremy Corbyn's speech having been moved one day forward because of the recalling of parliament, there clearly was a huge desire to find the way forward for this nascent organisation.
The meeting started with a useful discussion on this year's conference, which can probably best be summed up as a 'mixed bag' from the left's point of view: on the one hand, Jeremy Corbyn delivered a rousing speech, designed to please the much-neglected left in the party. We also saw conference voting for the free movement of people (though Dianne Abbot seems to have immediately backtracked on this and it remains to be seen if this policy makes it into the election programme), plus the disaffiliation of the rightwing Labour Students in the run up to conference, and we witnessed the first organised intervention of the LLA, calling for a protest against Tom Watson, who then cancelled his conference speech (more on that below).
On the other hand, there were also a number of setbacks and problems for the left: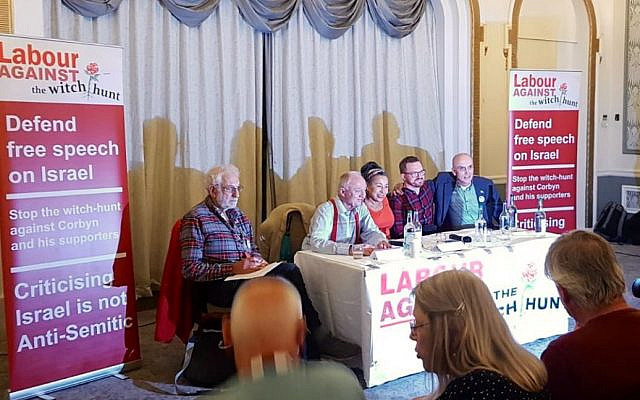 In the run-up to conference, a vicious campaign against the anti-witch-hunt left had led to the cancellation of various venues booked by Jewish Voice for Labour, Labour Against the Witchhunt and the Labour Representation Committee. However, in record time, comrades from the newly established Brighton Labour Left Alliance worked absolute miracles and booked the Rialto Theatre to allow some of the cancelled meetings to take place. They even worked out a programme of 'Free Speech events' that went beyond what was planned in the first place. Over three days, they managed to put on a range of exciting events, featuring Chris Williamson MP, Jackie Walker, Kerry Anne Mendoza and others. The venue of LAW's main fringe event had to be kept secret, but, with almost 200 people attending, it was standing room only. The left showed that it will not be cowed or intimidated.
Conference itself saw a tightening of the disciplinary procedures, which gives the national executive committee the right to fast-track the expulsion of members accused of having been "inconsistent with the party's aims and values, agreed codes of conduct, or involving prejudice towards any protected characteristic". No doubt, the NEC hopes that this will finally put an end the 'anti-Semitism crisis' in the Labour Party, but many people at our meeting feared that this is likely to lead to exactly the opposite: "We expect there to be many more vexatious complaints being made by the right against Corbyn supporters", as LAW's Tina Werkmann put it. Also, as the NEC last year adopted the highly disputed definition of anti-Semitism published by the International Holocaust Remembrance Alliance, which conflates anti-Zionism with anti-Semitism, we can expect to see a rise in allegations made against those who are critical of Israel, rather than guilty of any actual anti-Semitism.
Comrade Werkmann explained that only four members of the entire NEC had voted against the proposals: Darren Williams, Rachel Garnham, Yassamine Dar and Ann Henderson – all CLP delegates, who had been elected as part of the 'left slate' backed by the Centre Left Grassroots Alliance.
However, the four other CLGA members representing CLP members on the NEC voted in favour of fast-track expulsions: Momentum owner Jon Lansman (no surprise there) and his hangers-on, Navendu Mishra (now selected as a prospective parliamentary candidate in the safe seat of Stockport), Huda Elmi and Claudia Webbe. The latter's vote is perhaps the most worrying, as she is the current chair of the Campaign for Labour Party Democracy – whose secretary, Pete Willsman, of course, remains suspended from the party (and the NEC) on utterly bogus charges!
No doubt, Willsman's case (and those of Chris Williamson MP, Ken Livingstone, Jackie Walker, etc) is exactly the reason why Lansman voted for these changes: there is no love lost between the Momentum owner, Willsman and many of the other veteran Corbyn supporters who have been witch-hunted and smeared, and Lansman is keen to get rid of Williamson and Willsman – he has openly said so, after all.
Conference also voted to dramatically reduce the input of Labour Party members into the Local Campaign Forums. LCFs bring together local party branches and are responsible for selecting Labour's council candidates, while also giving members at least a chance to question their councillors (though they have not been accountable to members for a long time). They are now to be called 'Local Government Forums' and the composition will change quite dramatically. There will be three "sections", made up of members of the local Labour group of councillors, CLPs and locally affiliated trade unions. While those sections might differ dramatically in size, they will have equal voting rights.
This rule change was snuck through conference as part of a number of proposals by the NEC that were supposed to 'tidy up' any outstanding issues from last year's so-called 'Party Democracy Review'. In reality, very few rules in the party have been democratised as part of this exercise – but many have been made worse. This no doubt reflects the pressure from the right and the unions on Labour HQ.
Many LCFs have been taken over by the left in the last two years, mirroring the slow but persistent growth and organisation of the left within Labour. In many areas, councillors have come under increasing pressure from the local members to reflect the changing nature of the party. Labour councillors have not only implemented the draconian cuts imposed by the Tory government, but have done so willingly and without even the hint of a fight-back. Many Labour-run councils have enthusiastically embraced outsourcing – ie, bringing cut-throat private companies in to take over services that the council used to provide. As these companies are based on the need to make a profit, they end up providing fewer and worse services, while charging more money for it. That is the basic logic of capitalism.
Worryingly, both these rule changes were submitted by the NEC and were only presented to delegates (as part of a 225-page report by the conference arrangements committee) a few hours before they were meant to be voting on them. There is clearly a huge democratic deficit when it comes to conference, and especially many first-time delegates at our LLA meeting reported feeling utterly confused and overwhelmed by this experience. We discussed setting up a working group that could help to better prepare delegates for next year's conference and to help LLA members get to grips with the party's rule book. We also discussed the need for the LLA to prepare some decent rule changes from the left that CLPs could adopt for next year's conference.
What to do about the unions?
The meeting also discussed the huge and very visible divide at conference between the union block and the CLP delegates. The tightening of the disciplinary rules, for example, was – very encouragingly – rejected by a majority of CLP delegates. But an overwhelming majority of the unions voted in favour. Ditto when it came to the efforts to re-establish the old clause four, abolished by Tony Blair: a majority of delegates from CLPs voted yes – but the rule change was defeated by the affiliates.
There were in fact a number of occasions when, for example, a clear majority of people in the hall raised their hand in favour of a motion, but then the chair ruled that the vote had in fact been lost. This was down to the fact that the party's affiliates' vote counts for 50% of the entire vote at conference – even though there are far fewer delegates from the affiliated unions and socialist societies present. This led to huge dissatisfaction among particularly first-time CLP delegates, who felt that they were being disenfranchised.
Unsurprisingly, a number of speakers at our LLA networking meeting therefore raised how important it is to democratise the unions and their input into party conference as well as the Labour Party more generally. Some comrades in the room volunteered to produce a draft campaigning strategy on what is a huge issue.
After this discussion, Lee Rock (a representative of Sheffield Labour Left on the LLA organising committee) gave a very useful report about the current state of the Labour Left Alliance. Over 1,400 individuals have now signed up to the appeal ("when we launched the appeal, we were hoping to have 1,000 by conference") and over 20 LLA local groups have affiliated, with another dozen or so being currently set up. In addition, LLA is supported by four national organisations: LAW, LRC, Red Labour and the Campaign for Chris Williamson. The LLA organising group has grown to over 30 members, which, according to comrade Rock, "can make it very difficult to come to decisions". In his presentation, he raised the need for the organisation to have elected officers with clearly defined roles.
This was a theme that was reflected in the next session: how the LLA should move forward. Three discussion papers had been drafted and circulated to all LLA signatories in the run-up to our meeting and were dealt with at some length:
Kevin Bean of Merseyside Labour Left Alliance spoke on the proposal coming from LAW, Sheffield Labour Left and Merseyside LLA itself, which argues that the LLA should swiftly move to a "more accountable structure", with a constitution and elected officers. "The tyranny of structurelessness is very dangerous," he warned. "There are always some people in charge – but without proper structures, elections and accountability, we cannot hold them to account."
Cathy Augustine outlined the proposal of the Labour Representation Committee that the LLA "should remain a network for the time being and without any elected officers". She thought that "the current system of volunteers taking on various aspects of the work functions well".
Tony Greenstein, a member of the newly established Brighton Labour Left Alliance, admitted that his proposal was more of a "stream of consciousness" born out of the desire to move forward quickly. He suggested that the LLA should swiftly establish a membership structure and start employing a part-time worker to move the organisation forward.
In the somewhat unfocused discussion, most people seem to support the need for better and more democratic structures. Glyn Secker of the affiliated Dulwich Labour Left (and secretary of Jewish Voice for Labour) argued that we should adopt a "clear and short constitution as soon as possible". JVL had got off the ground within a few short months, but we had to act quickly to "counter the attacks by the right". LAW's chair, Jackie Walker, suggested that we need structures, but could, for example, do without a permanent chair and vice-chair: "Why don't we simply pull a name from a hat?" That suggestion would only work, of course, if the person is up to speed with all the arguments, motions and amendments that have been submitted.
Tom Watson walkout
The most bizarre intervention was made by Andrew Berry of the LRC. In his three minutes, he solely argued against a comrade who had earlier congratulated the LLA on its hastily produced leaflet, 'Shun Tom Watson'.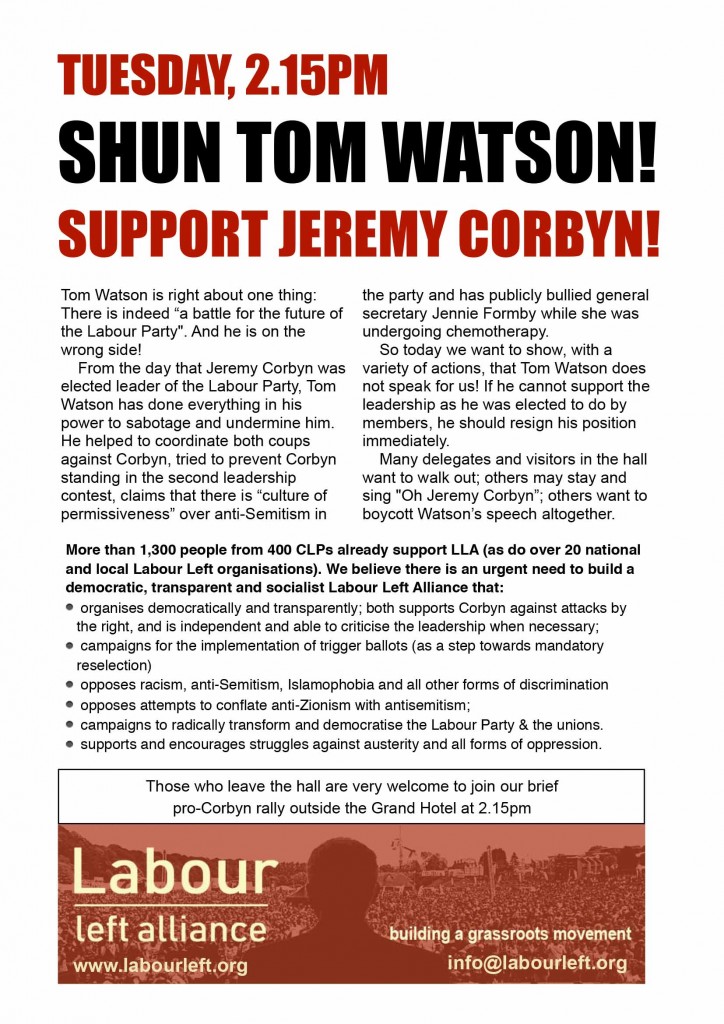 This leaflet explained that a number of delegations were planning to walk out during Watson's speech, while others were planning to sing "Oh Jeremy Corbyn". (As an aside, Unite delegates were apparently intending to 'sit on their hands' – a rather lame tactic, which, as one sarky commentator at conference put it, "sounds like it could be a Monty Python sketch".) A WhatsApp group with over 60 people from various delegations and left groups swiftly sprang up during conference and worked closely together to plan for the action. Almost 1,000 copies of a quickly produced LLA leaflet were handed out to delegates and visitors by LLA supporters – and the reception was overwhelmingly positive. Funnily enough, the only negative reaction came from members of (how to say this nicely?) longer established groups on the Labour left, who angrily told us, "unless we can win this, we should not organise such stupid stunts". Self-defeating attitude or what?
In any case, when the CAC reorganised the conference agenda after the recall of parliament, it moved Tom Watson from Tuesday to Wednesday and offered him the opportunity to close conference. But we have been told by a journalist that at the Tuesday morning press conference Labour's press officer, James Schneider, let slip that Watson was literally begging the CAC to take him off the agenda altogether, because he did not fancy much being left alone in the conference hall with a bunch of hostile lefties.
The Metro, which has a reach of 3.65 million readers, reported it this way: "Tom Watson has pulled the plug on his proposed speech at the Labour Party conference after reports that activists were planning to stage a huge walk-out." Next to the article, they published the whole LLA leaflet. Watson later announced in the Jewish Chronicle: "I was going to attack Corbyn's failure to address anti-Semitism in my Labour conference speech."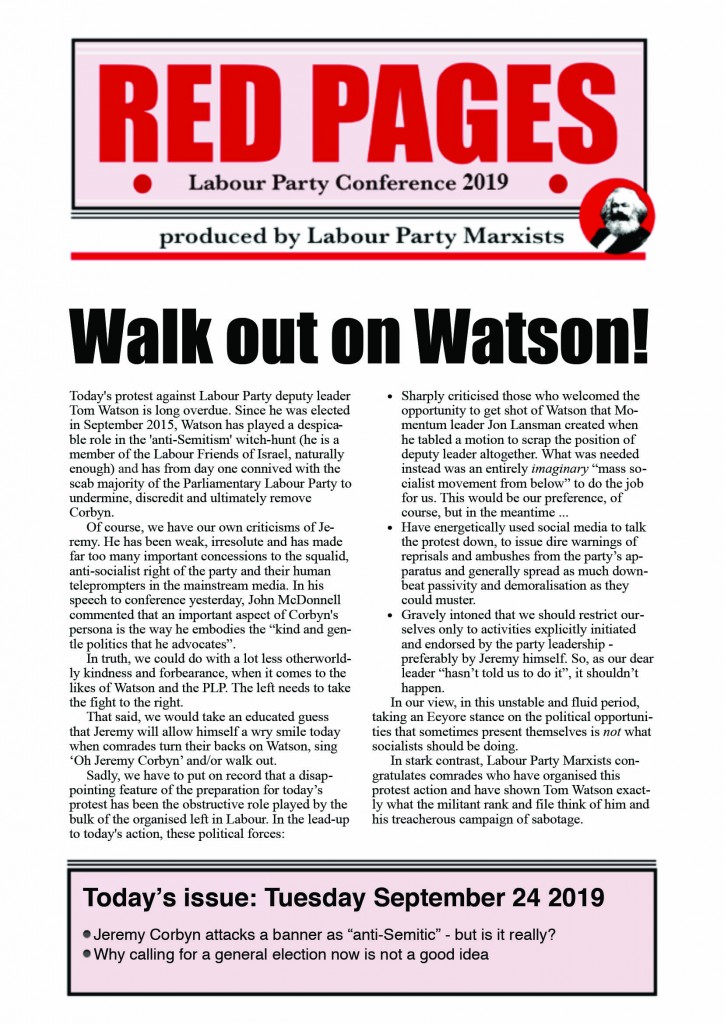 From our interaction with delegates and observers (LPM comrades handed out the LLA leaflet and our daily Red Pages bulletin with a similar front page), we believe that such a speech would have gone down at conference like the proverbial fart in a space suit. We have no doubt that many of those who were a bit wary about walking out might have changed their mind if they had witnessed such an attack from the platform. So it seems a no-brainer that we should celebrate such an early success for the LLA, even if the Metro might have simplified the issue a bit.
However, Andrew Berry thought we were "fooling ourselves if we think this has anything at all to do with the LLA or its leaflet" (which he opposed). With this negative attitude we will never build anything worthwhile.
Of course, this was only a networking meeting without any decision-making authority, but it was an important start to discuss the way forward for the LLA. We also heard proposals:
To hold a proper, decision-making LLA launch conference in early 2020 (this is now being planned).
To set up a working group that helps to prepare for next year's conference, produces guidelines for (new) delegates and draws up a number of useful rule changes for CLPs. There was also a suggestion that the left has to make sure it books a 'safe space', where it can hold events without having the meetings cancelled or disrupted by pro-Zionists and rightwingers.
To approach all prospective Labour Party candidates with the simple question, 'Will you support Jeremy Corbyn as prime minister?' and then publish their answers to help comrades decide which candidates they should be campaigning for. Not a bad idea, in our view.
A pro-active approach is certainly better than the empty calls for 'unity' we have heard from the 'moderates' or the self-defeating view that, unless we "win", we should not even try to fight