LPMers happily joined 30 or so protestors outside Labour Party conference this morning to demand that general secretary Ian McNicol be sacked. Not only is McNicol responsible for the suspensions and expulsions of thousands of left-wing Labour Party members, he is also in the frame for attempts to sabotage Labour's electoral challenge in the June's snap election. He and other rightwingers were clearly hoping for a result so dire for Labour that Jeremy Corbyn would have to fall on his sword. Thus, many CLPs were woefully underfunded and a large number received not a single penny. (For example, Sheffield Hallam, where the pro-Corbyn left managed to oust Lib Dem luminary Nick Clegg and win the first ever Labour Party MP in the constituency, received precisely zip from either the region or HQ).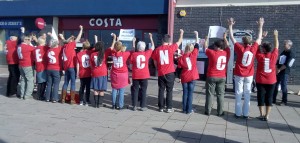 The response to the protest was predictable. Right-winger Johanna Baxter expressed her tremulous outrage to conference at this protest against "an employee of the party". She really should have added 'and my fellow political traveller on the right': Before she was booted off the NEC last year, Baxter managed to use the then wafer-thin right wing majority on the NEC to push through changes to give Wales and Scotland two extra seats on the NEC. This was not prompted by democratic concerns around regional devolution. No, Baxter was confident that the vacancies would be filled by supporters of the right in the party.
Subsequently, of course, Scottish Labour leader Kezia Dugdale resigned and was replaced (temporarily) by left wing deputy leader Alex Rowley. This produced a small left NEC majority. In turn, this was enough to push through the 'Corbyn review' and expand the CLP representation from six to nine, enshrining a left wing majority on our leading body for the near future. Clearly, the right is in some pain. Happy days!