Chris Williamson has dared question the claim that Labour has become institutionally anti-Semitic under Jeremy Corbyn, writes Carla Roberts. Now he is likely to be expelled for this crime.
For future generations of socialists studying how the right has managed to brand lifelong anti-racists as racists, July 9 2019 might serve as a symbolic date.
Outside the Labour Party's HQ in London's Victoria Street, 100 protestors gathered in solidarity with the Labour Party's bravest MP. They delivered a petition, signed by almost 4,000 people, demanding Chris Williamson's reinstatement. Speakers who were there on behalf of Labour Against the Witchhunt, Jewish Voice for Labour, the Labour Representation Committee, the RMT union and various Momentum branches outlined what really is behind the charges against Williamson: "This is an attack on Jeremy Corbyn himself, because he remains an unreliable ally from the ruling class's point of view," said Stan Keable of Labour Against the Witchhunt – a position that was echoed by many other speakers on the day.
Inside the ugly Southside tower, however, fewer than 40 people (most of whom had sneaked in through the back door) made a decision that allowed the McCarthyite witch-hunt in the party to reach Kafkaesque proportions. In what we believe was an unprecedented move, a majority of Labour's national executive committee voted to 'revisit' the verdict of an NEC anti-Semitism panel to reinstate comrade Williamson to full party membership. This only became possible because general secretary Jennie Formby had chosen to accept the ridiculous claim by Keith Vaz (one of the three panel members making the decision) that he was on some kind of mysterious medication that had rendered all his decisions on that day unsafe. Instead, she should have sent him to an independent doctor to verify his claims.
But her decision underlines yet again who is calling the shots in the raging civil war in the party – and that the leadership around Corbyn is still trying to appease the right rather than openly take them on. True, Corbyn might not want to see Williamson expelled. But by not speaking out and allowing the witch-hunt to grow and grow over the last three years, Jeremy Corbyn is as culpable for this decision as Tom Watson, who coordinated the vicious media backlash against Williamson's brief reinstatement.
So instead of clearing comrade Williamson – which is, of course, the only rational conclusion the so-called evidence against him allows – the July 9 NEC meeting decided to have his case re-examined by a different NEC anti-Semitism panel.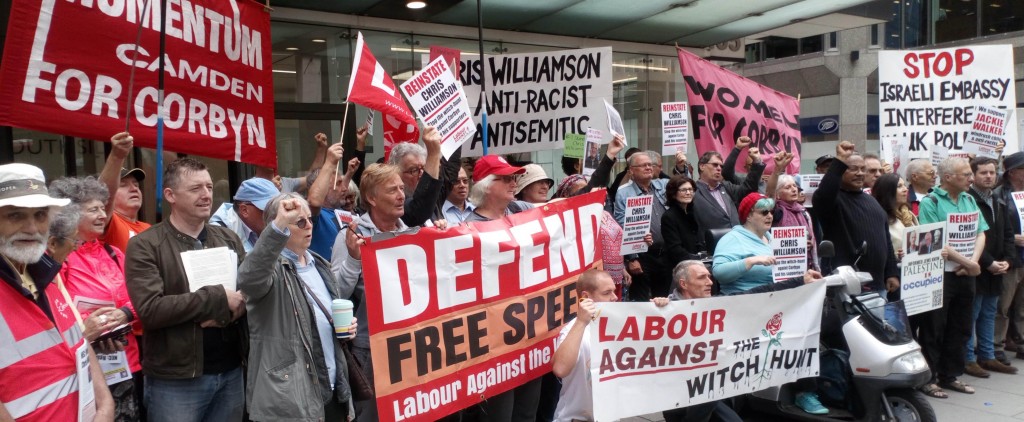 Incredibly, this will be the third panel dealing with Chris's case. As we reported last week, the first one was to be made up of Momentum owner Jon Lansman, Claudia Webbe and ex-MP George Howarth. We can just about imagine the furore if such an ostensibly leftwing panel had voted to send Williamson – who is hugely popular amongst the membership – to the national constitutional committee (NCC). This is where the NEC outsources all the disciplinary cases that it cannot/does not want to deal with. Despite this body's recent expansion from 11 to 25 members, it is still dominated by the right; the three person panels are 'traditionally' made up of one leftwinger and two rightwingers. No wonder that a referral to the NCC usually results in expulsion – which is how it got its well-deserved epithet of 'national kangaroo court'. Both Webbe and Lansman chickened out, leaving it to a second panel to rule on the case. As we know, Huda Elmi and Keith Vaz both voted for Williamson's reinstatement, which was followed by a very PR-effective outcry by the right, mobilised by chief saboteur Tom Watson (whom Steve Hedley, assistant general secretary of the RMT union, quite rightly called "a scoundrel" that "the members should get rid off" at the lobby outside).
What if this third panel finds Williamson innocent? Will somebody have to fake a heart attack to get the verdict revisited once again? How many panels does it need to get the correct answer? We already know, of course, that the next panel is bound to get it 'right' – ie, wrong – and send Williamson's case to the NCC.
Vicious circle
There is a very small chance this will not result in Williamson's expulsion, but this has less to do with justice and more to do with timing: should there be a snap election before his case is dealt with by the NCC, he will be unable to stand again in Derby North, the constituency he represents, as he will still be suspended. Somebody else will be installed as the official candidate and might or might not become the next MP for Derby North.
It is far more likely, however, that the party leadership will want to get this over with soon. The very public resignation this week of three parasites from Labour's benches in the House of Lords (who bizarrely claim that the party is "shielding anti-Semites") and the outrageously one-sided edition of BBC's Panorama programme on the issue will add even more pressure on those around Jeremy Corbyn to be seen to 'act'. Unfortunately, we know what that means: there will be more investigations, more suspensions, more expulsions. The witch-hunt grows – ditto the attacks on Jeremy Corbyn. It is a vicious circle.
There is exactly zero chance of comrade Williamson getting a fair trial at the NCC – and even less chance of being exonerated. We expect that he will (eventually) be expelled. So let us be clear what his 'crimes' are: like Jackie Walker, Marc Wadsworth and many other Corbyn supporters who have been smeared, vilified and wrongfully accused of anti-Semitism, he will be expelled for stating that the tiny number of cases of actual anti-Semitism in the party have been weaponised, amplified and woven into a hugely distorted, politically motivated narrative. He will be expelled for the crime of questioning the commonplace that the party has become institutionally anti-Semitic because of Jeremy Corbyn's leadership. He will be expelled, in other words, for daring to state the truth.
As Naomi Wimborne-Idrissi of Jewish Voice for Labour put it at the NEC lobby, "Now even questioning if somebody really is an anti-Semite is proof that you are an anti-Semite yourself." Or, in the words of Moshé Machover, who also addressed the event: "The proof that Chris Williamson was right to question the party's response to such false allegations is, of course, his own treatment by the party."
There are obvious similarities to the case of Ken Livingstone. The former mayor of London might have been slightly clumsy in his off-the-cuff remarks about Hitler – who, he said, "supported Zionism until he went mad". Of course, he got the date wrong when he said Hitler came to power in 1932 (it was a year later). It was also wrong to personalise the shift in policy. But the point he was making about the collaboration of the early Nazi regime and Zionism is basically correct, as comrade Machover outlines in his excellent article, 'Anti-Zionism does not equal anti-Semitism'.
Livingstone's original punishment for saying what is now deemed unsayable was a one-year suspension. The NEC was probably hoping that things would die down and that he could be allowed to sneak back quietly into the party. But, of course, by giving in to the witch-hunters and suspending him in the first place, the NEC and the leadership helped to fuel the flames and allow the witch-hunt to grow out of all proportion. So, instead of readmitting him, they planned to add another 12 months to his suspension. At this stage though, the rightwingers in and outside the party had grown so emboldened that anything less than Livingstone's expulsion was not acceptable. Livingstone resigned to save Corbyn from further blushes.
We do not expect comrade Williamson to do the same. Contrary to Livingstone and many other Labour lefts, he is quite prepared to publicly criticise Corbyn. We note with interest the open letter circulated just before the July 9 NEC meeting, which has been signed by Mike Leigh, Ken Loach, John Pilger, professor Avi Shlaim, Alexei Sayle, Lowkey, Brian Eno, Professor Ilan Pappe and some other well-known people. This has no doubt been prepared with Williamson's input:
Jeremy's victory in 2015 was almost immediately followed by an onslaught against his supporters – starting with black and Jewish socialists – maliciously misrepresented as anti-Semites by disparate forces hostile to the prospect of a Corbyn-led government. Chris was sometimes their only parliamentary ally and advocate. The party's complicity in this campaign of systematic harassment of black and Jewish members with long histories of fighting racism rendered all activists and MPs fair game, including Jeremy and members of his shadow cabinet.
This paragraph points to the ridiculous nature of the witch-hunt. Chiefly directed against Corbyn and his supporters, it could only become so successful because of "the party's complicity" – ie, that of Jeremy Corbyn himself and those around him.
What's an anti-Semite?
We note that Gordon Brown and Keith Starmer are now demanding that "anti-Semites" should be "automatically expelled from the party". That begs the question: what exactly is an anti-Semite? Thousands of party members have been suspended and investigated – and not because they show actual "hostility to or prejudice against Jews" (which is how the Oxford English Dictionary defines anti-Semitism).
Most complaints are based on (sometimes sloppy) comments made in the heat of an online debate, when somebody, for example, writes 'Zionists' when they should say 'the Israeli government'. Or somebody sharing a meme or a video that, on much closer inspection, turns out to be the work of an actual anti-Semite – does that make the sharer anti-Semitic? How about having your words taken out of context, twisted and rearranged?
Or take the evolution of the term 'Zionism'. This is a label chosen by the Zionists themselves to describe their political ideology. Yet we have seen dozens of examples of Labour members being investigated simply for their use of the word – often merely in a descriptive fashion. They are presented with a charge sheet that reads:
The Chakrabarti report states: "The word 'Zionist' has been used personally, abusively or as a euphemism for 'Jew' … Use the term 'Zionist' advisedly, carefully and never euphemistically or as part of personal abuse." Do you think that your comments are against the spirit of this?"
Ditto Jon Lansman, who wants to ban the diminutive form, 'Zio', because for him it is an insult.
Those accused might point out the Chakrabarti report has, in fact, not been implemented – otherwise, for example, automatic suspensions like that of comrade Williamson, would have to cease too.
These types of accusations make up the vast majority of the complaints against Labour members. Hastily written, sometimes based on misconceptions and misinformation and, yes, sometimes based on low-level prejudice. But these instances – which, as can be expected, are increasing proportionally with the growth of the witch-hunt – would best be countered not by silly demands for 'zero tolerance', but by education through open debate (and, no, we are not talking about the 'rehabilitation programmes' offered by the Zionists of the Jewish Labour Movement or the witch-hunters in Hope not Hate, who have joined in the calls to expel Chris Williamson).
After all, the idea of socialism is based on the presumption that people can change, for the better. But then, most of the people pushing this witch-hunt and a 'zero tolerance' approach are, of course, not socialists – and should not be members of the Labour Party.
And, encouragingly, some half a dozen rightwing MPs have now publicly declared that they will not stand again. These include Blairites like Kate Hoey, Stephen Twiggs, Jim Fitzpatrick and Kevin Barron. Good riddance. Let us hope there will be many more rightwingers who follow their example.
Most of those now stepping down are, of course, jumping ship before they are pushed, thanks to the newly reformed system of trigger ballots. We are still awaiting detailed guidelines and a timetable from Labour HQ (without which trigger ballots cannot be launched), but we note with great interest a circular that was apparently sent by Jennie Formby to panicked MPs at the beginning of July. It clarifies how votes will be counted. As readers know, if a minimum of 33% of a Constituency Labour Party's branches or 33 % of the CLP's affiliates vote 'no' to retaining the sitting MP, a full selection process starts – ie, a democratic contest between different candidates, including the MP. But the circular clarifies this by stating: "the third of branches is calculated based only on the branches that do cast a vote". Which would be excellent, if indeed this is how the rule will be implemented.
Getting rid of some of the biggest saboteurs in the Parliamentary Labour Party is crucial in the fight to transform the party into a weapon of and for the working class. It remains to be seen, however, whether this will be a case of 'too little, too late.