In this issue of Red Pages:
Don't relax – now the real work begins!
Stuffed parrots, texts from Momentum – but very little real decision-making. A first time delegate reports
Transform the Labour Party – the basis of our submission to the Corbyn review
Support trade unionists in Iran!
Download the PDF version of this issue here: part 1 and part 2
---
Don't relax – now the real work begins!
This conference was certainly historic: almost 1,200 delegates and 13,000 visitors made this the largest Labour conference ever. It was also very left-wing, at least in its composition. There are lots of things the left can celebrate:
We defeated attempts by the right to portray Corbyn supporters as anti-Semites. Clearly designed to shut up the left, it achieved exactly the opposite effect: there were dozens of speakers at conference who spoke out against the right wing's vile witch-hunt and in favour of the rights of Palestinians. This ran like a red thread through conference.
Pressure from below (and perhaps Corbyn?) forced the Conference Arrangements Committee to re-insert Labour's support for the Palestinian cause into the National Policy Forum's report.
Labour First and Progress played no role at conference – and were visibly upset about it: their dismissal of the majority of new members as "naïve" and their rants against the Marxist "bullies"show that they have their backs against the wall.
But conference business itself was still firmly in the hands of the right:
There were no real debates on anything. The documents produced by the National Policy Forum (to which Tony Blair outsourced policy making) are full of waffle and without any concrete policies. Contemporary motions were distributed way too late and, once merged, were too vague and non-committal.
The NEC exercised a lot of pressure on delegates to remit all their rule change proposals in favour of the 'Party Democracy Review', even those that do not fall in the review's remit. Conference should have had a chance to properly debate and vote on, say, the McDonnell amendment, the need to abolish the 12 months delay affecting CLP rule changes and the fight to democratise Young Labour.
About a third of contemporary motions were ruled out of order by the CAC, including some that wanted to end British weapons exports to Saudi-Arabia, because a NPF document touches on the issue.
Clearly, the left still has a long way to go in its fight to transform the Labour Party. For a start, conference must become the sole, sovereign decision-making body of the party and the NPF should be abolished. It is an instrument to stop members from shaping party policy.
The next 12 months are going to be crucial in our fight to democratise the party and take it out of the hands of people like Iain McNicol. It is the bureaucratic middle layer that has been resisting reforms; the top and the bottom are now firmly in the hands of the left:
With the addition of three more members chosen by CLPs, the NEC will have a (slim) left-wing majority.
The new CAC (in office for two years), has a pro-Corbyn majority: Seema Chandwani and Billy Hayes were elected by the membership; two more seats are held by the Unite union.
The so-called 'Corbyn review' will be run by Katy Clarke, Claudia Webbe and Andy Kerr – all in the Corbyn camp.
This gives us an unprecedented opportunity to transform the party. However! We urge Labour Party members not to rely on Jeremy Corbyn and his allies on the NEC to sort things out for them. Corbyn has relented to pressure from the right on too many issues, be it the 'anti-Semitism scandal', Trident or free movement. Corbyn and his allies seem to believe that the saboteurs can been pacified and 'party unity' consolidated by giving ground on these issues. This is dangerously naive. The outcome of the Chakrabarti enquiry shows the opposite to be true. The witch-hunters' appetites grow in the eating.
Members need to exercise as much pressure as possible over two concrete issues arising from conference:
1. The Corbyn review must be as democratic and wide-ranging as possible. Clearly, the party is ripe for radical reform. Branches must be invited to have their views heard – and then implemented! The review could easily become a pseudo-democratic exercise, where people send in their thoughts and we end up with another compromise between the left and the right. This is, of course, the way the NPF currently works.
2. The NEC compromise on 'prejudice' is a fudge. The worst excesses of the Jewish Labour Movement's rule change have been removed. But its fingerprints are all over the compromise and they are trying to enshrine in the new code of conduct the controversial 'Working Definition of Anti-Semitism', which conflates anti-Semitism and anti-Zionism. The JLM must not be allowed to continue to exercise pressure beyond its numerical size. Conference has shown clearly that the membership has no interest in appeasing those determined to destabilise Corbyn's leadership.
---
Stuffed parrots, texts from Momentum – but very little real decision-making
A first-time delegate gives his impressions of conference
I really enjoyed my first time at conference. It was fantastic to see so many like-minded people, quite a few of whom were very happy to describe themselves openly as Marxists. I did not expect the mood to be so overwhelmingly pro-left, so clearly behind Corbyn and so visibly pro-Palestinian. It's evident that the panic in the right-wing press over the anti-Semitism scandal helped to consolidate the left at conference. Of course, delegates were eating out of John McDonnell's and Jeremy Corbyn's hands. But I did not expect everybody around me to get up to whoop and cheer when Naomi Wimborne-Idrissi made her pro-Palestinian speech. I could not see anybody staying in their seat. Another speaker got a standing ovation for mentioning that she was a member of Momentum.
I also did not expect the right to be quite so small and useless. Apart from a small group of people handing out Labour First's White Pages, I hardly came across them and they were almost invisible at conference.
Having said all of that, I can't say I really understood what was going on most of the time. I don't think delegates were really in control of things here. Everything is left to the last moment, and because of the various NEC compromises it was difficult to prepare. You really have to study the daily update from the Conference Arrangements Committee (CAC). For example, it was only by chance that I saw the proposed change to the National Policy Forum's document on Israel/Palestine in Sunday's report.
This year's conference agenda was designed, so we were told, to maximise the number of contributions from the conference floor, as opposed to just the party big-wigs. But the method of selecting these ordinary delegates was hard to believe. Speakers were selected by the chair in groups of three, from different parts of the floor. However, up to fifty would-be speakers attempting to catch the eye of the chair led to the employment of ever more bizarre theatrics: comrades were seen holding up hats, scarves, stuffed parrots, inflated bananas, open umbrellas… you get the picture. Those just raising their hand stood no chance.
But it was worse than that – in one session the chair admitted that they could only see the delegates in the front section of the audience, so anyone wanting to speak from the raised section at the rear would have a long wait. Delegates around me noticed that often the randomly selected speakers seemed to be very well informed with speeches that must have taken a while to prepare. Perhaps it was not that random after all.
This chaotic method of speaker selection was matched by the incoherent structure of the sessions. In no way could they be called debates – there was no order to the contributions and many topics in the NPF documents (to which Tony Blair outsourced policy-making) were not covered at all.
It was not much better when it came to contemporary motions. We only got to see them in the CAC's report on Sunday morning: a thick booklet with over 120 motions, which were grouped into different 'themes'. And by 3.30pm we were supposed to have read them all and then decide in the 'priorities ballot' which four themes we would like to see debated at conference. That is impossible of course. And of course it is designed to be impossible.
This is where the Campaign for Labour Party Democracy comes in. They certainly worked through the conference agenda (and dragged Momentum along with them – they are linked, of course. As I understand it, Momentum's owner Jon Lansman used to be a leading light in the CLPD back in the day).
As CLPD's Pete Willsman has been sitting on the NEC for decades, he gets prior access to material and so his comrades were able to read through all the motions in advance. They used their fringe meeting on Saturday evening to instruct/suggest to delegates which themes to vote on. They already knew that the unions would go for growth and investment, public sector pay, workers' rights and Grenfell. So, in order to maximise the motions heard, delegates were urged to vote for social care, NHS, housing and railways. Lo and behold, these themes got the vast majority of CLPs' votes.
As a normal delegate, I felt pretty much out of the loop most of the time, so this attempt to coordinate and explain issues was most welcome. At their fringe meeting on Tuesday night, CLPD comrades also urged CLP delegates to remit all their rule changes in order to get the 'Corbyn review' through unopposed. I must say I had my doubts about that tactic, as my own CLP was one of those who voted through the 'McDonnell amendment': we wanted to see a dramatic reduction to 5 per cent of the nominations needed from MPs and MEPs in order to get a leadership candidate on to the ballot paper. In th end, we were one of the many CLPs who "regretfully" remitted their rule change.
Momentum was a bit short on the arguments, but better with technology. They were texting us throughout the conference, giving voting advice. Particularly the session on Monday afternoon has to be regarded as a brilliant example of Momentum's ability to issue voting instructions to delegates at very short notice. The very last speaker in the session moved a reference back of a couple of paragraphs in the NPF document on 'Work, Pensions and Equality'. As he was literally the last speaker, there was no time to hear other speakers for or against, so delegates really had no idea which way to vote.
But the Momentum organisers must have decided it was an important issue, because text messages were despatched to all their supporting delegates on the conference floor: "Please vote for the reference back to reverse cuts to social security!" The document only criticised the cuts, but the delegate wanted the Labour Party to commit itself to reversing them. By the time the vote was taken a few minutes later, the message had got through. The reference back was carried, with support from a huge majority of CLP delegates. The NPF will now have to look at it again – though of course ordinary members will have to wait to see if the 200 or so members of the NPF will actually enforce this in their next annual report.
This kind of decision-making is very much hit and miss. There were plenty of other issues in the very vacuous NPF reports that deserved to be referenced back, but I presume nobody was called in to make the point! In the end, I ended up abstaining on all of the documents, because they are really full of waffle, without any clear, coherent policy proposals. Ditto the composited contemporary motions. As has been common practice, they have been merged into the most bland and uncontroversial motherhood and apple pie-type statements. Impossible to vote against.
The atmosphere of conference was joyous, even jubilant. It's just a shame that we haven't got a hold on conference and the party bureaucracy yet. Conference really hammered home to me the need to change that!
---
Transform the Labour Party
Jeremy Corbyn says he wants to find ways to give more power to ordinary members and a conference that makes the final decision on policy. The democracy commission has now been agreed and will report next year. All this is very welcome. James Marshall presents a 13-point platform that will provide the basis for the submission by Labour Party Marxists
1. Mandatory reselection is crucial,   though it terrifies the right. We read that this, "even more than nuclear disarmament and membership of the European Community, became the main catalyst for the launch of the breakaway Social Democratic Party" in March 1981. In that same treacherous spirit as the founders of the SDP, Progress – Lord David Sainsbury's party within a party – furiously denounces mandatory reselection as "a weapon of fear and intimidation". Yes, mandatory reselection is viewed as an affront by every rightwing wrecker, every hireling, every parliamentary careerist.
It is worth looking at the background. Interestingly, and with good foundation, we read on the Progress website that mandatory reselection carries "echoes of the Paris Commune, and of the Russian soviets, where delegates were subject to recall if they displeased their local citizenry. It rests on the idea that leaders will always be tempted to sell you out, once they get power." Well, surely, that is what history actually shows.
For decades, sitting Labour MPs – certainly those with safe seats – enjoyed a job for life (or for as long as no better offer came along). They might have deigned to visit their constituency once or twice a year, deliver a speech to the AGM and write an occasional letter to the local newspaper. Meanwhile they lived a pampered, middle class life, frequented various London gentlemen's clubs and spent their weekends in the home counties with Lord this and Lady that. Despite such evident moral corruption, they were automatically the candidate for the next election. Unless found guilty of an act of gross indecency or had the party whip withdrawn, they could do as they pleased.
With the insurgent rise of Bennism that totally unacceptable situation was called into question. The Campaign for Labour Party Democracy, founded in 1973, committed itself to a range of rule changes – the mandatory reselection of MPs was finally agreed by the 1980 conference. What this saw, however, was  not a Labour Party equivalent of the Paris Commune or the Russian soviets. There was no right to instantly recall. Nevertheless, once in each parliament, our MPs had to secure the endorsement of their local General Management Committee. Note, GMCs were made up of delegates elected by local party and trade union branches. They were sizable bodies too, typically consisting of 80, 90, 100 or even more delegates.
At the prompting of the bourgeois media, Neil Kinnock, desperately seeking acceptability, sought to extract trade unions from the voting process altogether. He failed, but accepted a compromise. A local electoral college for the selection and reselection of candidates was introduced. Ordinary members were given a direct vote for the first time, leaving GMCs with the right to nominate and shortlist only. This electoral college system gave unions and affiliated organisations up to 40% of the vote, with ordinary members having some 60% (the actual balance was different in each seat, depending on party and union membership).
Trigger ballots were a product of the 1990s. Formally honouring conference's "desire to maintain reselection", they made it significantly "easier for MPs to defend their positions". Trigger ballots allowed for a sitting MP to be subject to a full-scale ballot of the membership. But only if they lost a trigger ballot.
We say, all elected Labour representatives must, by rule, be subject to a one-member, one-vote mandatory reselection. MPs have to be brought under democratic control – from above, by the National Executive Committee; from below by Constituency Labour Parties.
2. We urgently need a sovereign conference once again. The cumbersome, undemocratic and oppressive structures, especially those put in place under the Blair supremacy, must be abolished. The joint policy committee, the national policy forums, etc, have to go.
3. We are against the idea of electing the general secretary through an all-member   ballot. The NEC should elect all national officers. Therefore the post of Labour leader should be replaced by the post of NEC chair. We favour annual elections with the right to recall at any time. As a matter of basic principle Marxists oppose all forms of Bonapartism.
4. In Scotland and Wales, their executive committees should likewise elect their own officers, including their representatives on the all-UK NEC. We are against a single individual in Scotland and Wales having the right to appoint themselves, or a trusted clone.
5. Scrap the hated compliance unit "and get back to the situation where people are automatically accepted for membership, unless there is a significant issue that comes up" (John McDonnell). The compliance unit operates in the murky shadows, routinely leaks to the capitalist media and makes rulings in a completely biased manner. We want to welcome into our ranks the bulk of those who have been barred from membership by the compliance unit. Many of them are good socialists with a proven record.
6. Those expelled from membership ought to have the right to reapply, not after five years, but just one year. All disciplinary procedures should be completed within three months. Endless delay violates natural justice.
7. The huge swing towards Labour in the June 2017 general election happened in no small part due to the enthusiasm of young voters. Yet Young Labour a is creaking, uninviting, thoroughly bureaucratic construction. We need a one-member-one-vote organisation. That must include Young Labour's National Committee. At present, two-thirds of votes are accounted for by appointees from affiliated organisations, eg, the Fabians and Co-op Party, and affiliated trade unions. Instead of the bi-annual policy and national committee elections, their must be an annual conference that can both decide on policy and elect a leadership. Young Labour has to have the right to decide on its own constitution and standing orders.
8. We need a rule that commits the NEC to securing the affiliation of all trade unions to the Labour Party. The FBU has already reaffiliated. Excellent. But what about the RMT? Let us win RMT militants to finally drop their support for the thoroughly misconceived Tusc project. Instead reaffiliate to the Labour Party. And what about the NUT? This year's Cardiff conference saw the executive narrowly win an amendment, by 50.63% to 49.37%, which in effect ruled out considering affiliation … at this moment. This can be changed … if we campaign to win hearts and minds. Then there is PCS. Thankfully, Mark Serwotka, its leftwing general secretary, has at last come round to the idea. Yes, PCS affiliation will run up against the Trades Disputes and Trade Union Act (1927), introduced by a vengeful Tory government in the aftermath of the general strike. Civil service unions were barred from affiliating to the Labour Party and the TUC. The Civil and Public Services Association – predecessor of PCS – reaffiliated to the TUC in 1946. Now, however, surely, it is time for PCS to reaffiliate to the Labour Party. Force another change in the law.
9. There has to be a shift in the party, away from the HQ, regional officers, the leader's office, the Parliamentary Labour Party, etc. CLPs must be empowered. Towards that end there has to be proper financing. CLPs should be allocated 50% of the individual membership dues. That will help with producing publicity material, hiring rooms, paying for full-time officers, providing transport, setting up websites, etc. That way our CLPs can be made into vibrant centres of socialist organisation, education and action.
10. Our goal must be a Labour Party, that, in the words of Keir Hardie, can "organise the working class into a great, independent political power to fight for the coming of socialism". We therefore need rule changes to once again allow left, communist and revolutionary groups and parties to affiliate. As long as they do not stand against us in elections, this can only but strengthen Labour as a federal party. Nowadays affiliated organisations include the Fabians, Christians on the left, the Cooperative Party and, problematically, the Jewish Labour Movement and Labour Business. Encourage the Socialist Workers Party, Socialist Party in England and Wales, Communist Party of Great Britain, etc, to join our ranks.
11. Being an MP ought to be an honour, not a career ladder, not a way for university graduates to secure a lucrative living. A particularly potent weapon here would be a rule requiring all our elected representatives and officials to take only the average wage of a skilled worker – a principle upheld by the Paris Commune and the Bolshevik revolution. Our MPs are on a basic £67,060 annual salary. On top of that they get around £12,000 in expenses and allowances, putting them on £79,060 (yet at present Labour MPs are only obliged to pay the £82 parliamentarians' subscription rate).
Let them keep the average skilled workers' wage – say £40,000 (plus legitimate expenses). Then, however, they should hand the balance over to the party. Even without a rule change Jeremy Corbyn, John McDonnell, Dianne Abbott ought to take the lead here.
12. Relying on the favours of the capitalist press, radio and TV is a fools game. Yes, it worked splendidly for Tony Blair and Alistair Campbell. But, as Neil Kinnock, Gordon Brown and Ed Miliband found to their cost, to live by the mainstream media is to die by the mainstream media.
The NEC should, by rule, establish and maintain our own press, radio and TV. To state the obvious, tweeting and texting have severe limits. Brilliant mediums for transmitting simple, short and sharp messages to the already converted. But, when it comes to complex ideas, debating history and charting out political strategies they are worse than useless. We should provide time and space for controversy and the whole range of different opinions within the party. Without that our media will be dull, lifeless, pointless. We should also take full advantage of parliamentary immunity to circumvent the oppressive libel laws. Then we can say the unsayable. That would prove to be electric in terms of shaping and mobilising public opinion.
13. We should adopt a new clause four. Not a return to the old, 1918, version, but a commitment to working class rule and a society which aims for a stateless, classless, moneyless society, which embodies the principle, 'From each according to their abilities, to each according to their needs'. That is what socialism is all about. Not a measly £10 per hour "living wage", shifting the tax balance and a state investment bank. No, re-establishing socialism in the mainstream of politics means committing the Labour Party to achieving a "democratic republic".
---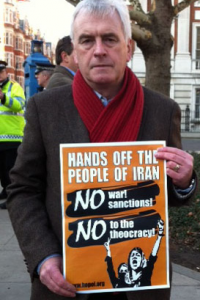 Support trade unionists in Iran!
John McDonnell has been the honorary chair of the anti-war/solidarity campaign Hands Off the people of Iran for many years. He outlined its core principles in a speech to our 2011 conference:
"While opposing any imperialist attacks, we positioned ourselves in clear, active solidarity with the people of Iran who are fighting against their theocratic regime. That also led us to clearly oppose all sanctions on the country, because in our view that is just another form of imperialism attacking the people of Iran. I think we have successfully engaged others in that discussion."
HOPI is now calling for solidarity with three prominent worker activists in Iran. Please sign and circulate this statement and contact HOPI (details below) to receive more info on this important campaign:
Three prominent activists are on hunger strike in an Iranian prison. They are protesting against unjust sentences handed down to them by the Islamic courts. The comrades are in urgent need of solidarity, especially from trade unionists and democrats internationally. The three are:
• Reza Shahbi ‐ a member of the coordinating committee of the syndicate of the Vahed Bus Company;
• Abbas Abdi ‐ executive member of teachers' guild;
• Mahmoud Beheshti Langaroudi ‐ former spokesperson of the teachers' guild.
Shahabi, Abdi and Langaroudi have had these sentences imposed as a result of their activities in defence of their fellow workers. Worryingly, the hunger strike is starting to have a serious effect on their health and is now endangering their lives. Reza Shahabi, for example, has refused food for more than six weeks.
We call on labour activists and defenders of the working class worldwide to do everything they can to save the lives of these leading activists and to build solidarity with them. We also express our grave concern for the lives of these labour activists and urge them to consider ending their hunger strike. The essential work they undertake in defence of thousands of workers in Iran is vital.
To add your name, email office@hopoi.info